SEO
7 Social Media Tips To Transform Your Manufacturing Marketing Strategy
Does your manufacturing company use social media as part of your manufacturing marketing strategy? Social media marketing is becoming more saturated and it can be difficult for your brand to stand out. With the help of an expert social media branding strategy, your brand can find the exposure and engagement you're looking for across social media platforms.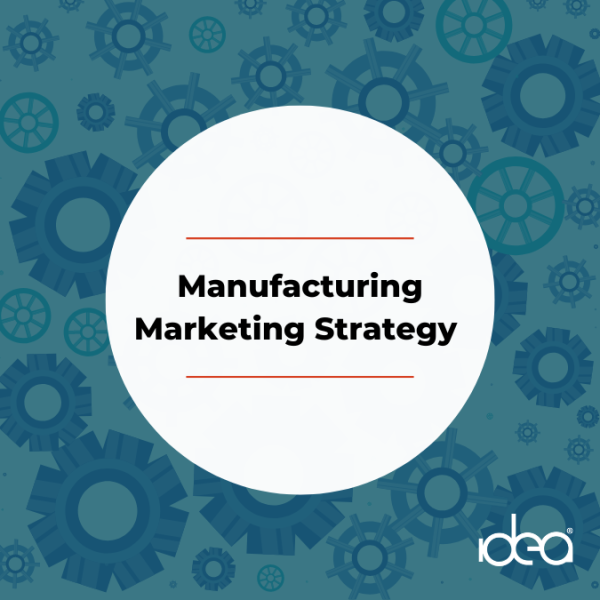 Today, focusing on just one social media platform is not enough to find success, unless you have a very specific business niche! Most businesses need a variety of social media channels plus an SEO marketing plan to create an omnichannel manufacturing marketing approach that reaches their target audience wherever they decide to engage. For each channel, the manufacturing marketing strategy will be a bit different, but there are some tips that can apply across all social channels.
Our digital marketing experts have put together a quick list of 7 tips that can improve your brand's performance across your social media channels. Here are our 7 expert social media tips on how to craft a winning manufacturing marketing strategy that gets users and potential customers to like, share, and comment on your content.
Social Media Marketing Can Get Your Brand In Front of More People
Though it can be challenging to stand out among the competition on social media, certain techniques and tips can help your brand. These include:
Defining your brand's voice and look
Using templates
Engaging with users
Posting regularly
Creating easily broken-down content
Keeping a consistent posting schedule
We break each of these topics down and more in the next section to cover all the important social media tips you need to know to build a better manufacturing marketing strategy.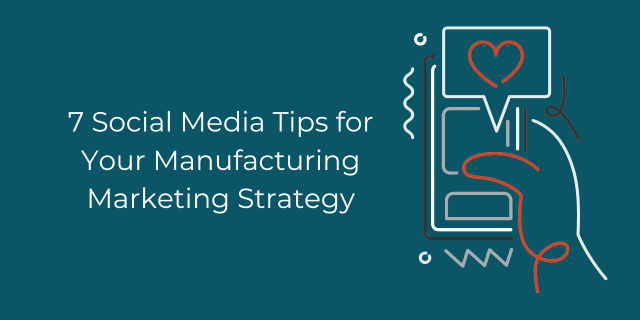 Here Are 7 Social Media Tips That Can Transform Your Manufacturing Marketing Strategy
To create an award-winning social media presence as part of your manufacturing marketing strategy, there are many factors to consider. Every manufacturing brand that is successful on social media has made sure to take advantage of the following tips.
But what if you've done everything you can for social media and still aren't seeing traction? After all, are manufacturing target audiences really found on Instagram? While some may argue yes, others might say no. What really matters is if you are spending too many resources on social media, then you may need to consider alternative social platforms for your manufacturing marketing strategy.
First, let's check off the boxes for the 7 social media tips, and if you've already done these steps, then check out the alternative social platforms that should be part of your manufacturing marketing strategy.
Here are the 7 social media tips that you should try for your manufacturing marketing strategy first:
1) Define Your Brand's Voice
Your brand's voice is unique to your company and should be congruent with your style, origin, and mission. What does your company value? Your company may focus on optimism and friendliness, for example. If that is your brand voice, your messages to the world will be optimistic and friendly.
All of your communication, whether it is in advertisements, packaging, brochures, presentations, or social media posts, should consistently have the same voice. Your target audience will recognize your brand's voice across your various channels.
2) Use The Same Voice Across All Manufacturing Marketing Campaigns
Make sure all of your social media writers and managers are on the same page regarding brand voice. You'll want a consistent voice across all posts and channels to avoid confusion in the marketplace.
A consistent voice may help to make that emotional connection with customers so they are loyal to your brand.3 According to one survey, 82% of consumers who were emotionally engaged with a brand said their loyalty to that brand led to further purchases.
3) Choose Uniform Colors and Fonts for Your Content
Your brand colors and font style are part of your brand's identity. They help to express who you are as a company and give customers a memorable and consistent image. In the example above, a friendly and optimistic company may have vibrant colors and fun fonts that express the company's values.
Your colors and font will also distinguish your company in the marketplace. Everyone knows that Coke is red and Pepsi is blue. Those are some of the most well-known examples of brand colors, but the concept can still be used for smaller or different kinds of companies.
As a brand, your fonts and typography should be uniform across your website, social platforms, emails, and marketing materials! This will help build your brand recognition (and trust) among your target audience.
When choosing a font, not only should your font be something that matches your brand voice as we mentioned earlier, but it should also be chosen for its availability and simplicity. With modern design styles overly done fonts tend to be less popular than simple, clean fonts. And some platforms, like email campaigns, only support certain fonts.
If you are going to use a unique font, then you should also include the use of a more standard font that can be used if your main font option does not work or is unavailable. This way you can include it on your website and marketing materials as part of your branding and will not look less cohesive to your target audience when you are forced to use it.
4) Use Templates for Cohesive Manufacturing Marketing
Templates can make social media posting quicker and easier. If most of your posts are going to be in the same or similar format, you may benefit from having ready-made document files with headings, subheadings, introductions, conclusions, or common calls to action already written and filed in. All you would have to do is change some of the text and fill in the necessary details.
You don't want to overuse the templates, however, because you'll want to keep your content fresh. This includes changing the formatting of your posts on occasion.
There are many tools available to use for creating your social media templates. You can choose a more robust software like Adobe Photoshop, or a more simple software like Canva to create the designs you need.
With either platform, you can create unique, cohesive designs that will highlight your product or service in a fun, engaging way that will resonate with your target audience.
Our advice is to create several templates for each type of content that your business provides, whether that is new products, new blogs, or a special, and reuse them so your audience will know what the content is about with one glance.
This will help users identify which content is important to them and they will pay more attention to that sort of content in the future.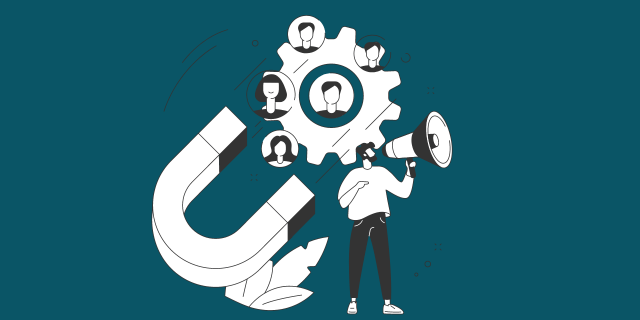 5) Engage With Your Target Audience
Authenticity is important when it comes to communication with users. Your brand should communicate authentic human stories with your potential customers and clients. This can help to expand your brand's presence on social media as people are more likely to share human stories4 than basic facts.
Have real conversations with your users and get them engaged with your content. This can create a welcoming atmosphere and encourage more users to join the conversation. By showing that your brand is active and engaged, you can build trust faster within your target audience.
If you are unable to create engagement with your own audience or subscribers, then try getting engaging with some of the popular posts or creators within your industry.
This will help your brand gain visibility and if you provide valuable or meaningful insights, may encourage followers to engage with your brand and its content more.
With constant engagement eventually, you will build your own target audience!
6) Create Content That Can Be Broken Down
When devising your social media strategy, there is one key strategy to keep in mind. Designing completely unique content for each platform can be exhausting and time-consuming. You might just not have the resources for it.
Instead, you should focus on creating content that can be easily customized for each different channel. Create your brand's content so that it can be broken down into multiple posts or used across various social media channels.
Perhaps you can use a story arc where you can begin to tell your brand story in small snippets. For example, Twitter allows you to use Twitter Moments to share a brand story across multiple Tweets.
Or you can create and upload a video of a client testimonial to Youtube but then use short clips from that video for different platforms like Instagram or Facebook. You can also embed the videos on your website!
By creating content that is engineered for multi-channel use, you will do less work to create more engaging content across your various social channels.
7) Create a Regular Social Media Post Schedule
If you want to succeed in social media, you have to be active. Frequent posting at regular intervals can keep your brand visible. Keeping fresh content flowing will help keep your audience engaged, and keep your brand present in their minds. Even updating old content can help. Optimizing old posts with fresh content can increase the number of organic views by 106%.
To make sure that your brand stays relevant and on top of its social media game, you should plan your content in advance. Try to group your content by topics or relevant events for your industry. This will make planning related content easier and create a stronger content strategy. Using a content calendar can help your brand achieve this. If you don't have a content calendar then try this FREE content calendar template.
Once you have these details figured out, you should use a social media posting tool to schedule your content. Scheduling out your content in advance will give you better insights into your overall approach, and reduce potential headaches that arise from posting content live.
Social Media Tools for Manufacturing Marketing
There are many different types of social media scheduling tools available, from Hootsuite to Buffer, and even tools from social platforms like Facebook.
When you do share your content on social media, be sure to share relevant links to your website and other posts similar to your social media post. These links will not only drive more traffic to the desired landing page or content, but they will also create valuable backlinks.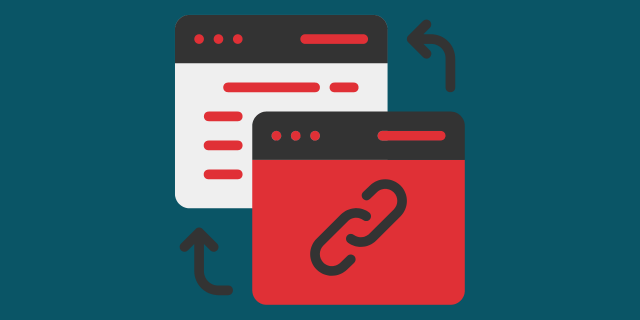 Use Backlinks in Your Manufacturing Marketing Strategy
Backlinks are an incredibly important part of a manufacturing marketing strategy. These links help drive traffic to other related or important content, but they also send signals to the search engine crawler. When users click these inbound links to your website, the search engine will recognize that these pages are driving or receiving traffic and in turn increase their ranking.
Your SEO ranking determines how high your website pages rank in the search results. The higher you rank, the more clicks you'll get. That's why having quality inbound links to your website is extremely important to your SEO strategy.
We cover the relevance of inbound links and SEO strategy more in-depth in one of our other digital marketing articles. Feel free to check it out and then come back here to finish reading!
Not only will your content get more views, but this can also get your site's posts ranked higher in search results as well.
Identify top Social Media Channels for Your Manufacturing Marketing Strategy
Now that we understand the top 7 social media tips, let's quickly discuss what are the channels that you should be focused on.
There are numerous social media platforms out there, and the list continues to grow. However, we feel that if you are going to pursue a social media strategy you should probably focus on the following platforms:
Facebook
Instagram
Linkedin
Twitter
Youtube
Tik Tok
Each of these platforms has a large follower base with unique qualities that will allow you to find your target audience with the right content.
What Platforms to Target with Video Content
If you are creating video content, then you are heading in the right direction with your manufacturing marketing strategy. Video continues to grow as the most popular type of content with target audiences, inside and outside the manufacturing space.
Some popular forms of video content for modern manufacturing marketing strategies include:
Sharing Case Studies
Featuring Customer Testimonials
Showcasing Your Product/Service in Action
The Manufacturing Team
Process or Plant Production Clips
Each of these types of video content can create more engagement within your target audience across social media channels. Using these videos as part of your manufacturing marketing strategy is more important than ever.
The support of video content has spread rapidly across the social media landscape, with many of the platforms that once barely supported video, now giving the content preference. We recommend that you use video on every social media channel as part of your manufacturing marketing strategy.
What Social Media Channels to Post Your Manufacturing Video Content
Ideally, longer videos should go on Youtube, Tik Tok, and Instagram. Youtube supports the longest videos, and Tik Tok recently upped their video duration to 3 minutes, allowing for much more content inclusion. Instagram supports shorter videos but continues to increase its video presence with the Reels function.
While Facebook and Linkedin can support longer videos, it doesn't mean that it's a good idea. Research has shown that the ideal length for videos on the platform is about 30 seconds, and should include your CTA in the first 10 seconds. Shorter videos are also better for Twitter which focuses on short, easily consumable content.
You can learn all the reasons to use video marketing for your manufacturing marketing strategy in our blog, 8 Reasons Video Content Marketing Greatly Improves Your Business.
What Social Media Platforms to Target with Image Content
Behind video content, image content is the most engaging content available on social media. A quick session on almost any social platform that supports images will show how frequent the use of image marketing is! There is everything from product highlights to ridiculous memes, all with the goal of engaging their target audience.
Images should be leveraged on all the major platforms that support them. Using images in your manufacturing marketing strategy is very likely to increase engagement on your social media posts.
However, there are best practices to keep in mind when using images as part of your manufacturing marketing strategy. We break down the most important things to consider when using image marketing in our blogs:
With this knowledge, you can be sure that you are meeting the best practices for images when it comes to your manufacturing marketing strategy.
Where to Target with Written Marketing Content
If video content and images provide the best results on social media, why even bother worrying about written content as part of your manufacturing marketing plan?
Well, these other categories of content may be more popular than written content, but they do not drive SEO like a piece of optimized content does. These SEO-optimized content pieces will drive traffic to your website and increase your overall rankings.
However, this written content on Social Media can get lost, so that is where using video and image content comes into play. By including video and image content within the content, you improve the quality and engagement of your piece.
Then on social media, you can share an image or video along with an excerpt or quick preview of your content along with a link back to the actual content piece. This will create those valuable backlinks we mentioned earlier that drive traffic and improve ranking.
Your image or video content will help capture the attention of your target audience and the written content will drive engagement.
Use a Content Breakdown Approach for Lead Gen Channels That Require High Visibility
This strategy is probably best demonstrated on Linkedin, where informative graphics or videos accompany well-thought-out posts. You can also apply this strategy to Facebook and Instagram but you are less likely to see the same level of engagement as Linkedin.
For the video platforms, make sure that your descriptions are valuable and convey the key information.
Our recommended platform for this style of manufacturing marketing strategy? Linkedin hands down. It is much easier to find success in marketing your business on Linkedin, and features like Linkedin reactions help you measure your manufacturing marketing strategy's effectiveness.
Alternative Social Platforms for Your Manufacturing Marketing Strategy
If your data show that social media isn't generating traffic or conversion for your business, don't feel bad. It takes a lot of resources to find success on social media that most businesses frankly do not have. But, there are alternative social platforms that you need to consider for your manufacturing marketing strategy that requires much fewer resources and generate better results.
Google Business Profile (Formerly Google My Business)
Google has recently begun promoting its web platform Google Business Profile and has allowed the channel to become something of a fast track to SEO.
Your Google Business Profile is essentially an improvement on your old map profile. It's the profile that shows up to the right of the search results when search users type your business name (or a closely related query) into the search bar.
This profile features some useful call-to-action buttons for search users like Directions, Call, and Website. All of these actions will lead to further engagement with your brand.
These buttons are nothing new, what is new, however, is the ability to have your profile triggered by related search phrases or terms. For example, if you were a manufacturing marketing agency, instead of only appearing when someone searched your agency name, you might appear for a query like "best manufacturing marketing agency near me."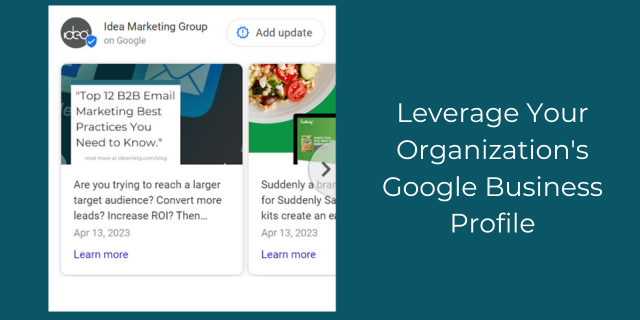 How to Leverage Google Business Profile for A Manufacturing Company
If you were a manufacturing marketing agency appearing to users searching for this query would be extremely important. Imagine you are an Illinois plastics manufacturer and you appear every time someone searches the phrase "top Illinois plastics manufacturer."
How do you get your business to appear? Well, you need to include these phrases in your profile! Your description and services need to contain the most valuable keyphrases for your target industries or service needs. But that's not all you can do to make sure that your business profile is triggered.
Part of the new improvements to the platform allows users to post updates about their business on the platform. These updates can contain a description and image that will also show up on your profile. If you target your keyphrases in these "posts" you can get your business to show up for those (and related) search queries!
We've found that across many manufacturing industries, Google Business Profile has 200-300% more engagement than social media when it comes to clicks and traffic. Want more information about how to leverage Google Business Profile for your manufacturing marketing plan?
Learn more in our article Boost Your Google Business Profile to Drive More Leads.
Build an Engaged Audience Using a Podcast
No doubt you've noticed the rising popularity of podcast episodes. Podcasts are a unique way for your brand to build an engaged audience while establishing yourself as a leader within your industry. It doesn't matter what industry you are in, a podcast can work to build awareness for your brand.
Audiences consume more content today than ever before, and it provides a great opportunity to get in front of your target audience with your tailored content. By identifying the topics that are relevant to your demographic, you can create engaging content that drives action.
You can answer common questions, discuss industry trends, or invite some of the leaders within your specific industry for an interview. All these kinds of content are likely to be relevant to your target audience.
A Top Example of a Manufacturing Podcast
We've also used a podcast to build an engaged target audience, call the Pitcher This Podcast! where we invited entrepreneurs and leaders from within the CPG and Manufacturing industry to share their insider knowledge and secrets to success.
With a well-produced podcast that has meaningful content, you can begin reaching more individuals that match your ideal customer profile. There are many options for sharing your podcast to reach these new audiences, including Youtube, Spotify, and Apple Music.
As part of your manufacturing marketing strategy, you should also try to build an email mailing list, and encourage users to enter their email so they can get more info and content. This will help you build an audience that you can foster a relationship with over time and drive more conversion within the audience segments.
While these are not your typical social media platforms, they do provide significant opportunities with the correct type of manufacturing marketing strategy.
What To Do If Your Social Media is Not Yielding Results
If your social media efforts are not yielding the results you want to see, it may be time to consider alternative manufacturing marketing strategies. Here are a few options that can help transform your marketing ROI:
Each of these different strategies can provide a significant boost to your manufacturing marketing strategies. But what if you are already using these strategies but not seeing results? Perhaps your marketing strategies are not as effective as they could be.
To gain a better understanding of your marketing efforts, try this FREE marketing ROI assessment. It is a completely free evaluation by digital marketing experts at an award-winning marketing and custom web design agency. No email or other personal information is required. Seriously, it's a completely free assessment to help you better evaluate your marketing efforts.
Try the free marketing ROI assessment to better understand how your marketing efforts are stacking up.
Why Use PPC Ads for Your Business
PPC ads are a great way to start reaching your target audience and driving conversions. There are several different PPC options available, but the most widely used PPC options are Google Ads, Linkedin Ads, and Meta Advertising (Facebook and Instagram).
Each of these paid ad campaigns can have a significant impact on your manufacturing marketing strategy.
Using Google Ads for Your Manufacturing Marketing Strategy
Google Ads comes in a variety of different ad type options that can be ideal for your manufacturing marketing strategy. The most commonly used style is Google search ads. These are the type of ads that appear at the top of the search results.
Google ads offer a wide variety of tools and options to help create an advertising campaign that delivers results. If you are searching for the quickest way to get in front of your target audience, then Google Ads is likely your best bet since Google has billions of users. With any Google Ads campaigns, you will want to make sure that you optimize your Google Ads landing pages.
Why Your Manufacturing Marketing Plan Should Include Linkedin Advertising
Linkedin is the largest network of professionals in the world, and its advertising features provide some unique opportunities. If your business is looking to reach decision-makers or professionals, then this platform is a great option for your PPC campaigns.
While Linkedin ads are not as robust as Google Ads, they do offer several levels of targeting to help refine your campaign's reach. Their retargeting feature can be especially useful to squeeze out more conversions from your most valuable audience segments.
If you are still on the fence about using Linkedin ads, here are 9 Reasons To Use Linkedin Advertising For Your Business.
Why Advertise on Meta?
Meta is the new name for the company that owns both Facebook and Instagram, and advertising is now down through the Meta platform. Facebook and Instagram ads allow you to reach unique audiences based on specific interests or behaviors.
There are a variety of ad options available, along with different campaign goals for you to select. If you are trying to reach the end consumer or build awareness for your brand, this type of advertising campaign can be a great option for your manufacturing marketing plan.
Using a Content and SEO Marketing Plan For Your Manufacturing Marketing Strategy
Another proven manufacturing marketing strategy is using an SEO and Content marketing plan. SEO or search engine optimization is the process of getting your website pages to rank higher in the search results for relevant keywords and phrases. The higher you rank the more clicks your business will get.
Creating improved SEO for your website should be one of your business's main priorities. But, SEO doesn't happen overnight. It can take well over 6 months before your begin to see the results of your SEO efforts.
If you want to learn more about SEO, and how to use it to improve your manufacturing marketing strategy, check out the following resources.
Why a Website Redesign Can Improve Your Business
Website redesigns are another huge factor that can improve your business performance. If your website is outdated or has broken functionality then you are likely losing out on valuable business opportunities!
Your manufacturing website should get an update every 3 years (maximum) to stay relevant and ensure the functionality works. Updating your web design is also incredibly important, you need to make sure that your website is optimized for the user journey and that it drives action.
Ultimately, your website is usually the first impression that users have of your brand, and you want it to be a good one. Your website is responsible for educating your audience, capturing leads, and maximizing conversions. That's why hiring a manufacturing web design agency is so important.
A poor web design will limit the ability to do any of those desired outcomes. If you have a poor manufacturing website then a manufacturing website redesign should be a priority in your manufacturing marketing strategy.
More Helpful Digital Marketing Resources For Your Manufacturing Marketing Strategy
When it comes to building a presence for your brand, there are many additional options besides traditional social media channels, options that are likely to be even more effective!
If you are looking for more digital marketing resources to improve your business, check out some of the following resources:
If you want to browse our library of resources, be sure to check out our full content list in the Idea Marketing Group blog section. We hope that the content written by our digital marketing experts will help you find ways to start improving your manufacturing marketing plan.
---