Marketing
Boost Your Google Business Profile to Drive Leads in 2023
Google My Business
Google My Business (now known as Google Business Profile) is one of the greatest free SEO and analytics tools accessible to business owners. The platform allows businesses to communicate with customers, and be discovered on Google search and Google maps. Idea Marketing Group has written an informative article on how to boost your Google Business Profile to drive leads in 2023.
You might be thinking, "Here we go, another social media account to keep track of", and we don't blame you for thinking that. If a Google Business Profile isn't on your radar yet, it should be! And what would be better than choosing 2023 as the year to begin your journey with a Google Business Profile?
Keep reading our complete guide on understanding Google My Business to discover the benefits of a Google Business Profile, how to set up a GMB profile, and even how to make a Google Business Profile post to drive organic website traffic to your website.
---
What is a Google Business Profile?
A Google My Business profile is part of your company's overall Google Business Profile that helps you manage, promote, and advance your business on Google. Whether you're trying to generate leads for a brick-and-mortar storefront, or you strictly sell your goods and services online only, utilizing your Google My Business profile showcases your business on Google Search as well as Google Maps! Doing so, helps you reach both a wider audience and the right one on the top search engine that today's average consumer trusts the most.
If you don't know by now, we are here to tell you: Google is the top search engine to lead potential customers to your business. Even Hubspot lists the online search engine as number one out of the top six search engines. This makes your SEO ranking even more important – which is where Google My Business comes in.
While Jedi mind tricks can only do so much for SEO optimization, utilizing your Google Business Profile is a reliable method to optimize your company for this top search engine. How though? Through boosting your local SEO rank to nearby searches and giving customers all the information they need from your detailed Google Business Profile.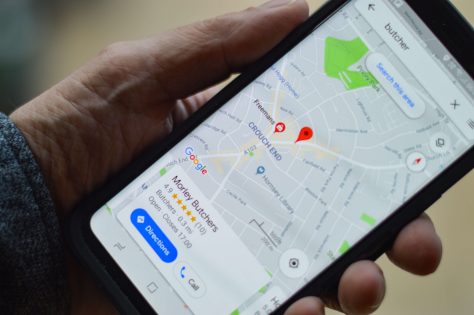 How a Google Business Profile Helps Establish Local SEO
You may be asking yourself "what is local SEO?" Well, to understand it, take a second to think about the words "google my business" literally.
Whether someone searches directly for your company or with a keyword relevant to your business, Google ranks nearby stores or businesses that can meet their needs. But, it also ranks nearby businesses that would be more applicable. By having its algorithm highly prioritize local businesses and rank between these, this develops your local SEO.
A Google Business Profile helps ensure that people find your business when looking for products and services like yours in their local area, both with online ranking as well as the information your profile makes available to the public.
Within your Google Business Profile consumers can see where and how to visit your business, hours of operation, past reviews, relevant photos of your store or products, as well as links to your website or how to contact.
Besides knowing Google ranks in this way, one of the major consumer trends is that "Satisfying immediacy is often more important than loyalty." By improving your Google My Business profile, you can rank higher for local SEO which improves your market position to reach nearby consumers in immediate need of your products and services.
Not sure how to find your target audience online? We can help with that too! Check out our recent blog where we cover the essential tools you need to know in order to understand your online target market.
---
How to Set Up a Google Business Profile?
Not sure how to set up a Google Business Profile? No worries! Now is the best time to set up your GMB profile and start fresh in the new year. Idea Marketing Group will help walk you through setting up a Google Business Profile so you can start taking advantage of its benefits. A Google My Business profile will help boost local SEO and is a great way to communicate with customers.
Follow these 7 steps to set up a Google Business Profile and start generating more SEO and organic traffic to your website:
The first step in setting up a Google Business Profile is to go to https://www.google.com/business/.
You will be asked to sign into your Google account. If you don't already have one, then go ahead and create one here. After your account has been created, come back to our helpful list of steps to continue setting up your Google My Business profile.
Next, you will be asked to enter your business name. If you get a notification that someone has already verified your business, then you will have to request ownership of the Business Profile.
Then you will be prompted to clarify your business's category.
After this, you will be asked to enter your business address and choose whether your business is a storefront or a service provider.
Please note, even if your business does not have a storefront it is still a great idea to create a Google Business profile.
Next, add your business's phone number and website address
The final step is to make sure your business listing gets verified by Google. The verification process is what helps Google confirm your business is accurate and reliable. It also makes sure only you and the business owner or manager have access to the business profile.
---
How Do I Post To Google My Business?
Once your Google My Business profile is set up, you can do regular posts as a way to communicate any necessary updates or generate traffic. To add Google My Business updates, go into your GMB profile, and click the carrot on blue action icons.
Once all choices are listed, click add an update. You will then see the three types of updates: add an update, add an offer, or add an event. Select which type of update suits the information you need to share the best, add relevant content for your business and target consumer, and post!
What Are The Different Types of Posts on Google My Business?
A great thing about Google My Business is that you can post various business updates. Part of properly optimizing and using Google My Business its full capacity is to use all three of the update types offered! These updates are great for B2B and B2C businesses, and allow you to easily go the extra mile when it comes to communicating with your target market.
When updating your Google My Business Profile, the three main types of posts are for updates, offers, and events. Depending on the type of information you want to share, each type of update has unique features to provide every detail necessary.
1. How to Add an Update to a Google Business Profile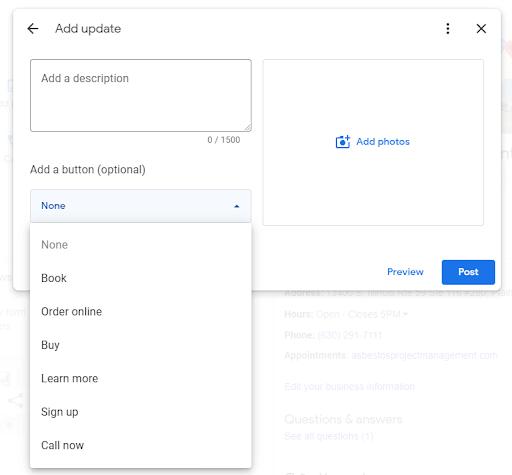 Updates are typically quick, short bursts of information delivering a call to action (CTA). They are meant to happen frequently, almost like social media posts.
With shorter information, updates allow for quick reminders to try to gain a conversion. Updates are customizable with a specific CTA, external links, a photo, and a brief description of 1500 characters.
With room for written content as well as a featured image, updates allow for SEO keywords to be included in your description. This helps boost SEO while providing an explanation to garner understanding, plus an interesting visual to draw attention. With all of this going on, any consumer will be fully interested in clicking your Google My Business post's CTA button!
Certain CTA buttons are available to customize your updates further! You can enable the viewer to book, order online, buy, learn more, sign up, and call now.
Updates are particularly helpful in generating more traffic to recent blog posts, resharing your social media platforms, promoting certain pages on your website, and more.
These various CTAs are the most common forms of action a consumer will take once at your Google Business Profile. This enables a seamless user experience and makes it easier to gain a potential new customer by having all they need readily available.
2. How to Add an Offer with Google My Business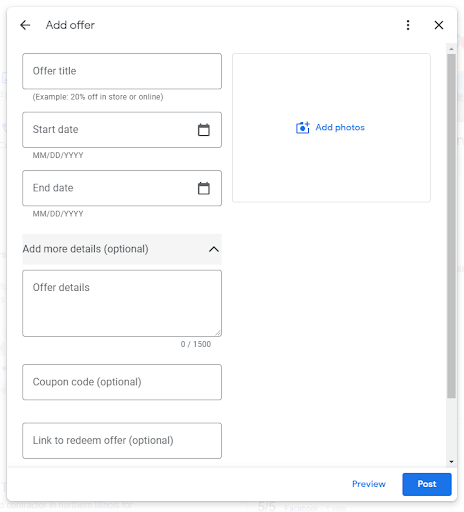 Offers are a great way to use your Google My Business profile to increase visibility on current or upcoming promotions or sales. These are helpful whether your business takes place in-store or online.
Having these offers listed allows for local SEO traffic to notice enticing sales as well as anyone else your business ranks for! Being able to see a current sale could mean the difference between a conversion or not, since current consumers value immediacy over loyalty.
Each offer allows you to label it with an exciting title, along with a start and end date. This saves you any issues in the future as you can schedule these offers ahead of time.
If you feel it is important to provide more information, there are optional categories to have a brief offer description, terms and conditions, as well as important links or codes.
This prevents any discrepancies from accidentally occurring, such as a customer trying to apply a discount when it is actually no longer applicable. Keeping expectations and communication clear helps you maintain a steady stream of target clients.
Offers can best be used for upcoming, current, or future sales, holiday promotions, coupon codes, and more. Increasing the visibility of these types of offers through your Google My Business profile is a simple way to increase sales.
3. How to Add an Event on a Google Business Profile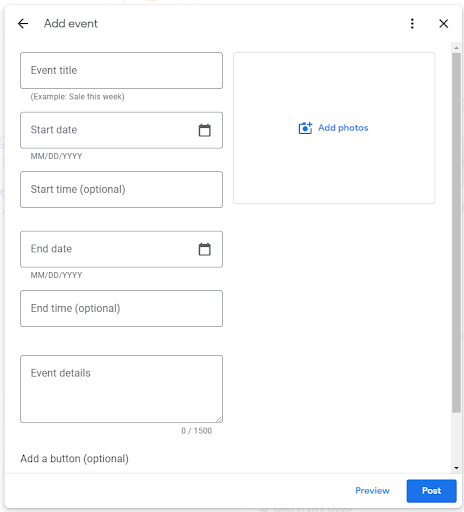 Let your business events speak for themselves! Event posts are a great way to promote important upcoming events that potential clients would have an interest in.
When adding an event to your Google Business Profile, this ensures that a higher volume of people are more likely to notice. Each event gets a title, a start day and time, an end day and time, along with 1500 characters to describe your event, add an image to boost excitement, and add a CTA button if necessary.
If there isn't a specific start or end time for your business's particular event, Google will default up to 24 hours from the day it is posted to your Google My Business profile.
The best examples of when this would be important to take advantage of would be for a store announcing when new merch has arrived, a restaurant notifying when their new menu has been set for the public, or when an online retail store is having a pop-up event.
The amount of customization that comes with the Google My Business update types is incredibly handy. This allows you to provide information in a way that is unique to your business and targets your customer's specific needs.
While we are sure you are itching to take advantage of this great insight, we highly recommend the preview button! This allows you to see your update in real-time and spot any errors. But, if you happen to notice after it has been posted, you can always go back and edit it later.
Where Can I See My Google Business Profile Posts?
Once posted, posts can be reviewed from the business's end. This is helpful in case of mistakes, changes in dates or times, or to simply review what you have shared. Again, these posts are shown on Google maps as well as Google searches.
To view your posts from the owner's perspective, go to your Google My Business profile. When opened, the recent update shows how your business actually looks on Google. On the right side where the knowledge panel is scroll down to the section below reviews, and you will see recent or previous updates.
Potential consumers can look under the "Overview" and "Updates" sections on their mobile devices. When trying to review from a desktop, potential clients can find posts again through the "From the Owner" Google Business Profile section.
How Often Should I Post on Google My Business?
To begin, you have to realize this is a little bit of a chess game, and you're trying to outsmart your target consumer and Google.
While you are promoting your business to generate more potential clients and work, Google is doing the same thing. Google wants you to spend as much time on its products and be in need of its services. Therefore, the more time you spend on your Google My Business profile, the more Google will reward you for doing so.
Similarly, the more images, details, and information you put on your Google My Business profile provides a better user experience for potential customers as well. Making that increased time and effort is also worthwhile in providing what searching clients need to generate new sales.
So what's the answer to "how often should I post on Google My Business?" As often as you can! However, it's important only to post reliable and relevant information. Google Business Profile posts are a great way to directly communicate with your local community, as well as generate preference with Google, therefore you should try to post updates regularly.
Google states, "posts over 6 months old get archived unless a date range is specified". By posting to GMB as frequently as you can, you won't have to worry about content being archived. Allow posts after 6 months will get archived if your business is often posting there will always be content on your Google Business Profile.
If you have important content that needs to be consistently presented to your target audience, you should make sure that your post the information in a different way every couple of months to avoid the info being archived and unreachable by your audience.
---
Recommended Google Business Profile Image and Video Guidelines
Did you know effective use of imagery in marketing can boost search engine ranking, get people to click or tap on your content, and increase overall user engagement? That's right, an easy way to increase leads is by adding images in content marketing.
Make your Google Business Profile posts & updates more engaging by adding images that grab the reader's attention. Photos, charts, graphs, memes, screenshots, clip art, animated GIFs, illustrations, stock images, and more are great ways to improve your content marketing strategy. Below are some helpful guidelines on recommended image sizes so your Google My Business profile looks great.
According to Google, these are the photo and video guidelines for your overall business profile images.
Photo guidelines:
Format: JPG or PNG.
Size: Between 10 KB and 5 MB.
Recommended resolution: 720 px tall, 720 px wide.
Minimum resolution: 250 px tall, 250 px wide.
Quality: The photo should be in focus and well-lit, and have no significant alterations or excessive use of filters. In other words, the image should represent reality.
Video guidelines:
Make sure your videos meet the following requirements:
Duration: Up to 30 seconds long
File size: Up to 75 MB
Resolution: 720p or higher
If you want to learn more about the difference between JPG and PNG, or why video is so important to content marketing, visit one of the resources below:
Google My Business Profile Post and Updates Image Sizes
The recommended image size specifically for GMB updates and posts is 1200 x 900 pixels, with a 4:3 image ratio.
What does a 4:3 image ratio mean? A 4:3 aspect ratio means that for every 4 inches of width in an image, you will have 3 inches of height. Calculate your 4:3 image ratio with this free tool, an aspect ratio calculator.
Correct image sizing for a GMB update is very important. Incorrect image sizing can cut off imagery or important graphics. To avoid this, upload images at the recommended size. Idea Marketing Group also recommends using Google's preview option to visualize how the image & post will look.
Google Business Profile Picture Size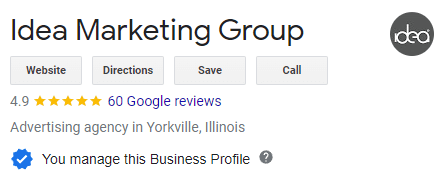 Your Google Business Profile picture will help your customers recognize your business. It's common that businesses will use their logos as profile pictures.
The recommended Google Business profile image size is 250 × 250 pixels.
Google My Business Cover Photo Size
A Google Business profile cover photo will be at the top of the profile and is a great way to showcase your business. The recommended Google Business profile cover photo is 1080 x 608 pixels.
Remember, your Google Business listing could potentially be the first time a customer is "meeting" you. Make sure you have a good first impression with a fully filled-out and professional-looking Google Business Profile.
Uploading Additional Google Business Profile Images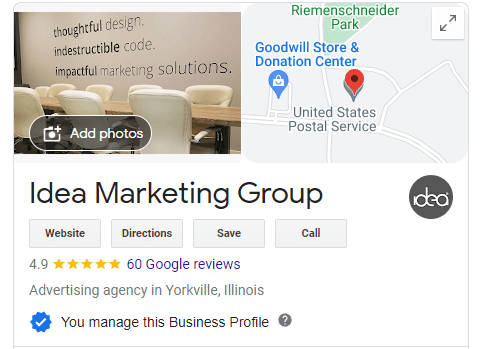 You can always add additional images to your profile that will help your business stand out. These images are important because they could be the first thing a prospective customer may see about your business.
Uploading GMB public photos is very beneficial. They can help the customer locate your business storefront when in need of a physical store. Your Google Business Profile public photos can highlight your products, services, and company culture – all important elements in today's age where the consumer has the power in such a saturated market.
Images are all the rage right now. They hold more visual interest for potential clients, while also helping to provide a better understanding of your business. In our latest blog, we cover how to use Google image search to skyrocket your brand awareness and lead generation. Check it out now, and start putting your pictures to good use!
---
What Are the Benefits of Optimizing Your Google Business Profile?
Whether you are a small, local company or a giant business mogul, sometimes marketing efforts can seem exhausting and unrewarding. But we can assure you, investing in your Google Business Profile is the best way to both reach new markets and reinvest in your business.
While the benefits of utilizing your Google My Business account to its fullest are endless, here are the main takeaways to convince you it is worth every second:
Google My Business helps increase local SEO (search engine and maps)
GMB makes your business more visible to customers and Google itself
Helps keep customers informed about important business news and operations
Provides quicker answers to customer questions, increasing user experience with your brand
It signals to consumers that your business is a trustworthy place
Google My Business allows for differentiation from your competitors
With marketing, there are so many minute factors at play. But don't leave the success of your business up to a guessing game. With benefits like these, optimizing your Google Business profile is a surefire way for your marketing efforts to start paying off!
---