Marketing
8 Factors to Grow Website Credibility and Trust Quickly
Trust is everything to the consumer, if the consumer doesn't trust you, chances are they won't buy from you. You need to establish trust through your website's credibility, and do it fast in the digital space. Your website design only has five milliseconds to make that all-important first impression as potential customers flit from site to site. That's why these 8 factors to grow website credibility and trust for your brand are so incredibly important!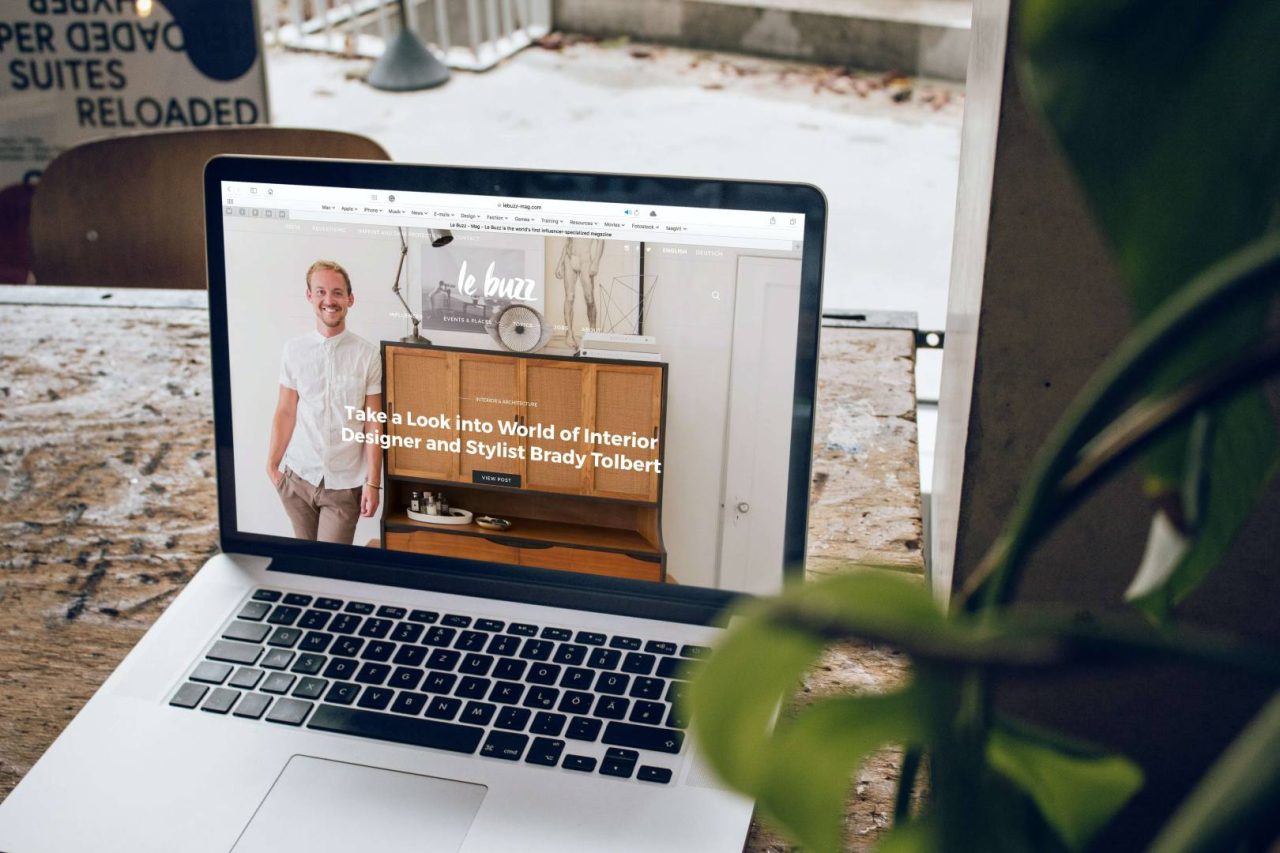 The fastest way to build the internet trust required for bringing the results you need is to increase website credibility. When you have website credibility, trust in your business is established instantly and grows automatically.
Consider that 94% of site visitors base their online impression of your business on website design alone. When you design in website credibility, visitors stay on your site longer and are more inclined to buy your products or services. Look for these eight website credibility factors in any consumer package goods (CPG) or manufacturing web design.
How to Increase Website Credibility and Trust through these 8 Factors
It isn't cheap to create a website, but they are perhaps the singular most important selling tool your business has to offer. That is why designing a website that builds trust and confidence within your target audience is so important. You need to understand what factors build the best website credibility for your brand.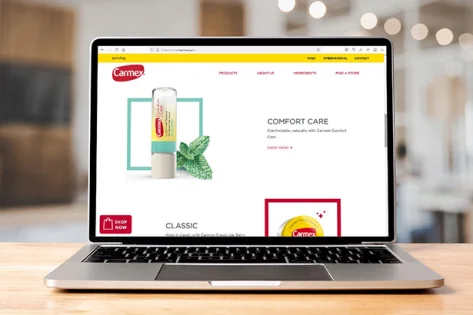 An investment into your website that achieves these goals will result in a much higher return on investment in the form of increased sales, more leads, and a leading brand reputation. Our custom web design experts have built websites for hundreds of clients, of varying business sizes, We've built cutting-edge custom websites for small local businesses all the way to recognized brands like Eagle Brand and Carmex.
With our years of experience as a leading Chicago web design company, we know what it takes to create award-winning websites for our clients in the CPG, manufacturing, and healthcare industries.
Here's our expert insight into the most important factors to build trust and website credibility for your brand.
1. Why an Up-to-Date Website is so Important to Website Credibility
According to Forbes, websites only have a lifespan of two years and seven months. After that, sites become obsolete, driving sales and website performance metrics down. Unfortunately, that isn't a lot of time. Fortunately, sometimes your website only needs an update instead of a complete overhaul. It ultimately depends on if your website was built correctly from the front and back end to begin with, and isn't held together with luck and some digital ducktape.
We cover more about a website's lifespan, and when it's time for a redesign in another educational article How Long Is a Website's Lifespan by our custom web design experts.
For now, what you should know is that the primary factors causing website obsolescence are:
Technological innovations
Changing customer expectations and behavior
Changes in your business or industry
If your website is not up to date your target audience is going to know it. Your website is a reflection of both your brand and products or services. You don't want customers associating your brand with an out-of-date mentality.
By making sure your website is up to date and features the latest website trends, you signal to your target audience that your brand can be trusted and is quality. An updated website also allows for more opportunities to engage with your audience and drive more users to your website.
Every three years your website should be updated to keep a modern look and feel. If you have built your website custom from the start and done so correctly, this should be an easy and relatively quick process without the significant cost of a complete rebuild from scratch, however, if your website was built poorly, to begin with, and it is difficult to update or make changes, you may need to contact the web design experts to help.
2. Keep an Updated Blog Section
How many websites have you logged into and noticed that their last piece of content was posted years ago? It's never a good look for the brand, and it hurts website credibility and trust.
On the other hand, an up-to-date blog builds trust and increases your website credibility. When you keep your blog current with the latest information regarding news in your industry, trends, and new products, you become seen as a trusted authority. The store of trust spills over onto the products and services you offer.
Your blog is also an opportunity to educate your target audience and connect with them on a deeper level. Here you can answer customer questions, go in depth about your product or services, and provide important information for your target audience at every stage of the buying cycle. Most users browse around and try to learn more before making their purchase decision. If your brand can answer their questions and gain their trust, they are much more likely to return to your website when they are ready to make their purchase.
Aside from the trust and confidence that this builds with clients, your blog is also critical to SEO. One of the major ranking factors for search engines is the age of your articles. Old articles slowly sink down in search results, reducing their traffic. If you've got older content that performed well in the past, refreshing or updating it can restore it in search rank.
Not only does the age of articles affect your SEO, but the content within them is also incredibly important to search engines as well. A strong content marketing strategy is essential for your brand to perform well in the search results. Each ranking that your brand moves up means more traffic, and that's partly because search engine users trust that the most relevant information is in the top search results.
By leveraging content marketing, you can build "trust" with the search engines and also your target audience. New to content marketing or just never quite got the hang of it? Our content marketing experts cover successful content marketing strategies in depth in the following resources:
3. How To Use Client Testimonials to Build Website Credibility
Did you know that 93% of customers read reviews online before buying? People trust word of mouth more than any other source of information, even if it is from a stranger! In fact, online shoppers trust other online reviews at about the same rate as reviews from close friends. So, your website needs to be using client testimonials and customer reviews to build website credibility for your brand.
Strategically including customer testimonials in your website design will increase credibility and trust. Besides putting them on your homepage, other effective places to use testimonials are:
Landing pages
Sales pages
Contact pages
Below blog posts
On exit-intent popups
On your team page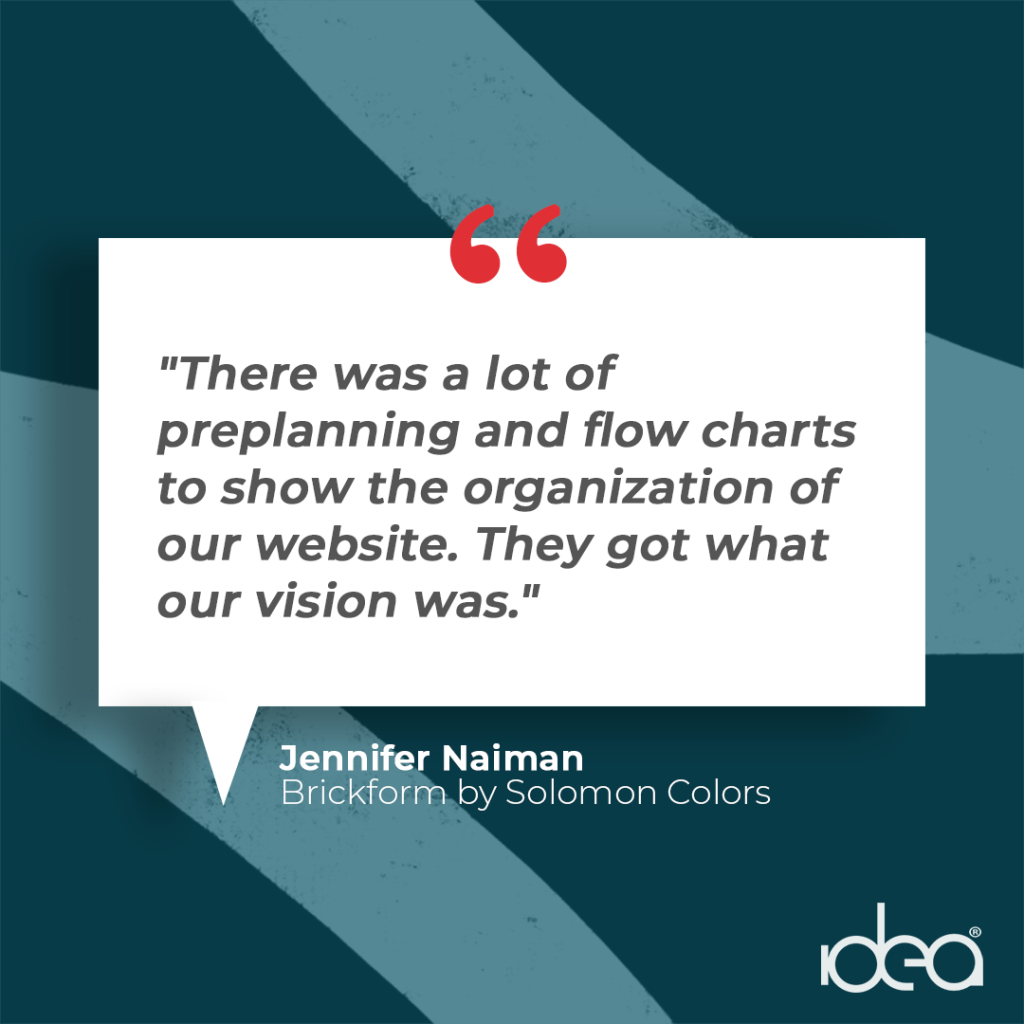 Also, don't forget to address your Google Business Profile! It's another important tool for your business to build trust in your target audience. On your Google profile, you can list your services, links to blogs, images, and perhaps most importantly, you can respond to customer reviews.
At some point it is impossible to not get some negative reviews, by replying in a polite tone with genuine concern, you can signal to other users that your brand is invested in your customer satisfaction and will respond to any issues that arise.
However, don't forget that your business also needs to reply to positive feedback as well. A generic thank you is acceptable, but these are the individuals who are promoting your business for free with their positive reviews. By responding with a personalized message, you can help your customers feel appreciated and build even more trust and respect for your business.
Overall, leveraging reviews is a critical way to build trust and website credibility for your business.
4. Implement A User-First Web Design
Your website is meant to drive user action, so it makes logical sense that it should be designed with a user-first mindset. Unfortunately, many websites fault to accomplish this and this can create a gap in the target audiences' confidence and trust in the website. To build your website credibility, you need to fix it.
A user-first web design should be created with the user experience (UX) first in mind. Good UX design is easy, useful, and fun to use. It engages visitors and removes points of friction that cause users to click away. This action is called a bounce, and it's something you definitely want to avoid for your website.
High bounce rates can lead to a lower ranking for your website. We cover bounce rates in depth in the article, What Causes High Bounce Rates and The Secret to Improve Them.
Your target users need to be able to find what they want quickly on your website. This may mean using dedicated landing pages for marketing campaigns, or a clean simplified menu that doesn't overwhelm users. Your design should help users find the information they need without hindering them with unnecessary steps or clicks. It's good to keep in mind that for every navigation your website is more likely to have a higher drop-off rate.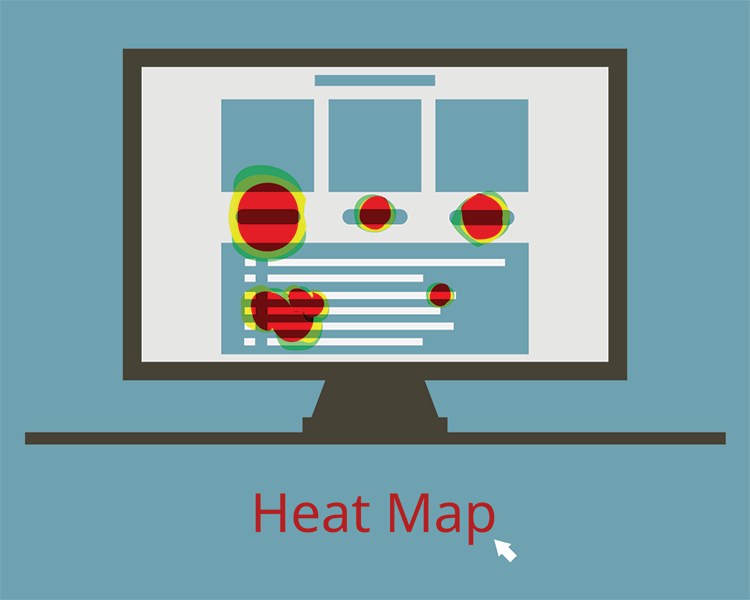 Using Google Analytics' free tools will tell you how traffic flows through your site and what pages it drops off. Then you can improve those pages.
Another great way to monitor your website user behavior is by using heatmapping software to see where your users are clicking and how they interact with your website. This can provide insightful data that can help you improve your website credibility!
If you still aren't sure what is causing a bad user experience on your website, you can always speak with the experts to get a website audit!
5. Why Page Load Speeds Are Important to Website Credibility
Users today face a ton of distractions and expect websites to lead quickly, otherwise, they will bounce. Nothing hurts your website more than a slow load time.
Load times for eCommerce sites need to be under two seconds — with less than one-second ideal, especially on mobile. Your customer loyalty, conversion rate, checkout rate, and SEO all suffer when pages load slowly. The slower your site loads, the higher your bounce rate goes and the lower your ROI.
There are many different factors that can affect load speeds such as:
Incorrect image formats
Overuse of image files
Poorly written backend code
Bad hosting
Broken links
As experts in website speed, we recommend using a dedicated server instead of a shared server. It can be slightly more expensive, but load times will increase dramatically. Also, using cloud caching helps immensely.
You can always test your website load speeds with services like Google Page Speed Insights.
6. Why Your Website Needs a Team Page
Users like to see the faces behind the website, the human element is still important on any website. Outstanding team pages have replaced boring 'about pages' because they:
Give your business a personal face
Showcase your team's expertise
Boost credibility and trust: people know whom they're dealing with
Your team page style is ultimately up to your business, but we don't recommend making it too serious. A light tone and a little bit of humor can better connect with your target audience. For the format, you can choose to have a brief section or even simple bullet points on each team member, or you can go more in-depth and provide a bit more backstory. It's ultimately up to you!
As long as you include a team page in your website design it will help build more trust among your target audience, increase website credibility, and lead to a higher ROI for your website. Here's an example of our team page below!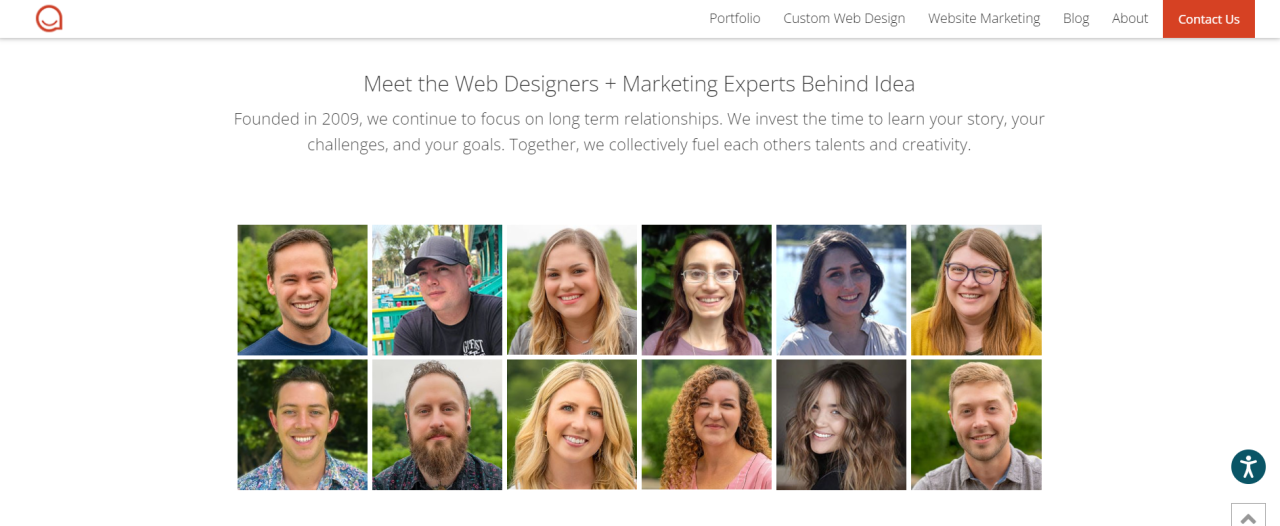 7. How to Get Better Website Security
Do you look for whether a website is HTTP or HTTPS when you click on the URL? If not, you should be!
Every business website needs HTTPS security. Having a URL that begins with HTTPS instead of HTTP tells everyone that encrypted data secure communications between the browser and the website. Hackers can't steal personal information. In today's world of constant security breaches and data leaks, you don't want to make it any easier for criminals to find your information!
Your website hosting service can provide the TLS/SSL certificate that generates HTTPS on your website address. Interested in better website hosting for your business? Speak with some of the experts in website hosting.
By ensuring that your website is secure, your business will build more confidence and website credibility with your target users!
8. Use High-Quality Images to Build Website Credibility
Seeing is still believing. People directly correlate the quality of your images to the quality of your products and services. A blurry or poorly cropped image will lead to users having a negative opinion of your website, reducing your website credibility in the minds of your audience.
To make sure that you are avoiding this issue, your business needs to know what kind of images to use and when to use them. Fortunately, there are only two main image file formats that you need to be familiar with. JPEG, or JPG, and PNG are the main file image types used on modern websites.
Each has its own unique benefits and features and is better suited for different circumstances. In general, due to size attributes and file clarity, it's a good rule of thumb to use JPG images for photos and product images, while PNG files are best for logos, graphics, and charts.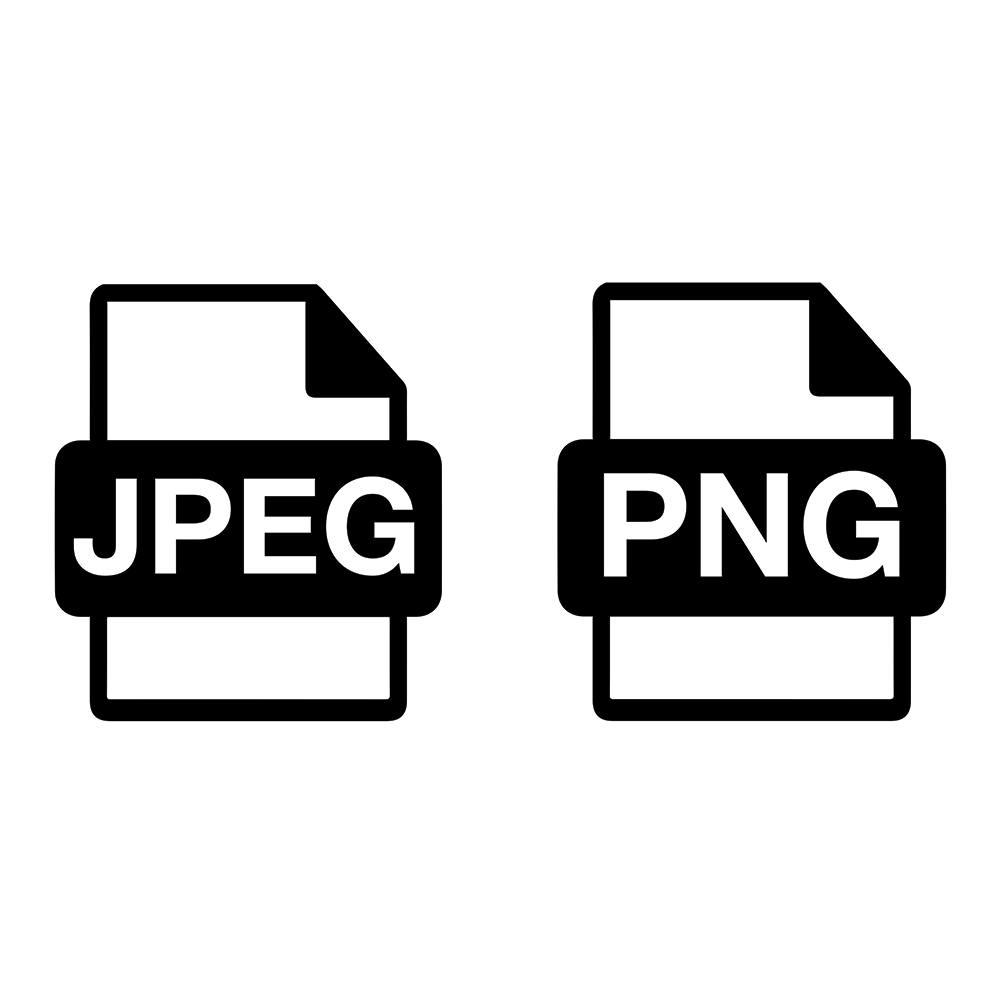 We explain the difference between JPG and PNG files in the article WHAT IS BETTER PNG OR JPG?
Another important factor about using high-quality images is that they can be sharable on social media, boosting website credibility and bringing you free traffic. You can often find high-quality images from online libraries like Shuttershock but they do cost more to use.
Other sources for free images or platforms like Unsplash, with a large library of images that are free to use.
While there are benefits of using high-quality images from online sources, it's always a good idea to have actual photos taken of your products, location, and anything else that is relevant to your business. Since many websites only use generic free images, it creates an opportunity for you to look better than them and build more trust with your audience. Use images to your advantage and build website credibility!
Custom Web Design that Inspires Website Credibility Instantly
That first split-second impression of your site design has to capture searchers' attention. Once you've got them, you have to quickly build trust and interest to keep them. Addressing all the factors that give website credibility in your web design removes reasons for potential customers to click away to a competitor.
With a solid web design and custom build, your website can easily address all of these factors from the beginning.
---