Marketing
How to Create the Best Recipe Page Design for Your CPG Brand
If you own a consumer packaged goods (CPG) brand in today's world then you understand the importance of making customers choose your products when they are creating their favorite recipe. One of the best ways to do that is to promote quality recipe ideas on your very own CPG website. To do that, you need to understand how to create the best recipe page design for your CPG brand.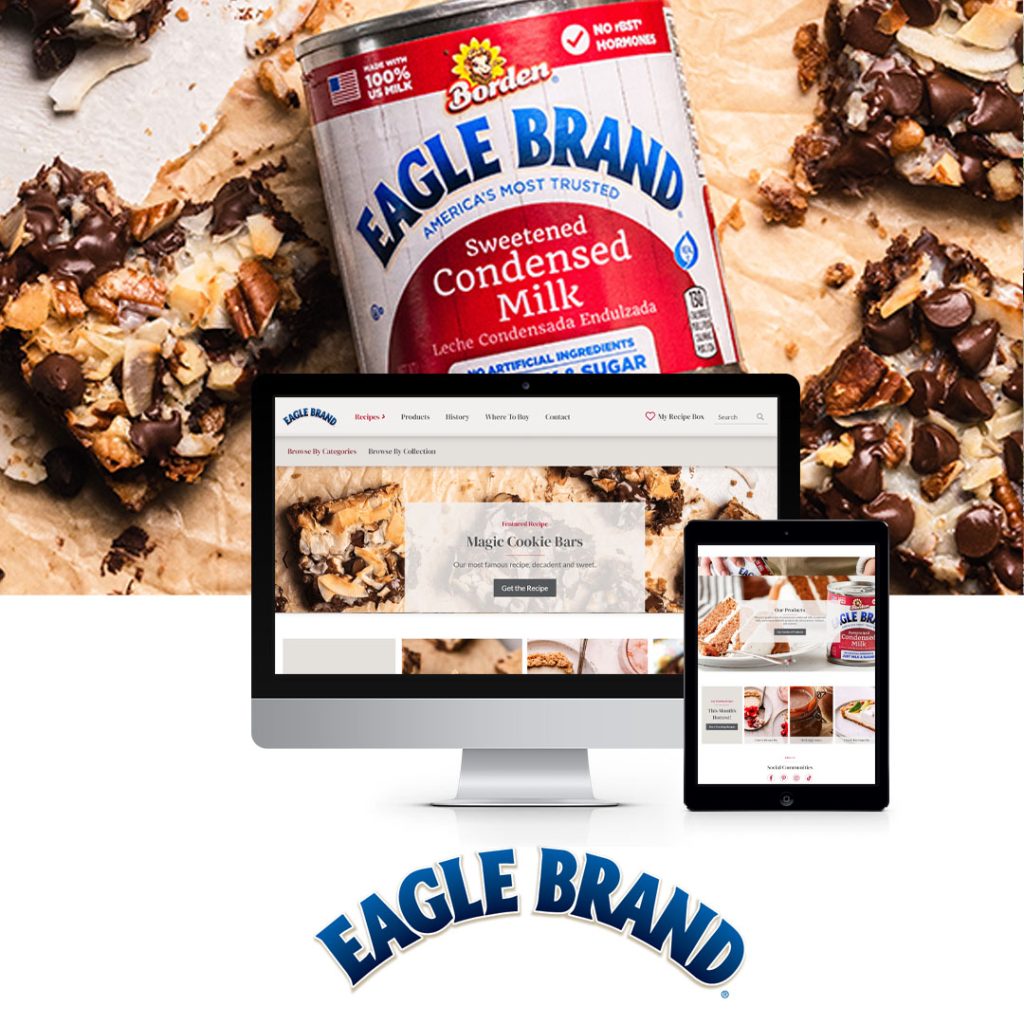 It's no secret that with the evolution of the internet and social media that the CPG industry has faced several challenges in the past few decades With these new challenges, there are also brand new opportunities for CPG brands.
On the one hand, online shopping has provided CPG brands with numerous avenues to reach potential customers and increase sales. On the other, the process of online shopping is no longer linear. Online customers go through multiple channels and touchpoints before buying their favorite products online.
It's easy for a CPG brand to get lost in this complex omnichannel process, missing out on sales in the murk of the digital shopping realm. Fortunately, savvy CPG brands can rely on one of the best methods of connecting with customers and selling products linearly: online recipes. Creating the best online recipe page design for your CPG brand is essential in finding success in today's online landscape.
Why is Recipe Page Design Important for CPG Brands?
Everyone has a favorite recipe, whether that's for a dinner of authentic Italian pasta and sauce or your favorite tasty dessert. Where did you find that family favorite? Perhaps it was passed down, or a friend shared it on Facebook. You've also probably noticed that it will call for a distinct brand in the ingredient list. That's where CPG brands have an opportunity to promote their product.
In today's world of online shopping, recipes remain one of the best ways for CPG brands to build relationships with customers and sell products. After all, much of what CPG brands sell will be used in them. And consumers frequently use the internet to find the best recipes for dishes they would like to try or to discover a new and exciting dish.
A recipe on a CPG brand's website will allow consumers to move easily from finding the recipe to finding and purchasing the products that they will need. A good recipe page design also helps CPG brands sell different types of products. After all, a recipe requires several different products available from a CPG brand. Consumers who find a good recipe on a CPG brand website are more likely to purchase a wider range of necessary products than what they were originally looking for.
From the customer's perspective, an easy-to-read layout is important for any online recipe page. Therefore, CPG brands must consider the actual design of the recipe page in addition to the food instructions.
This is especially true when designing the recipe's mobile page. Consumers frequently use their mobile devices when physically shopping in supermarkets, often looking for new recipes to try out. Recent studies show that around 43% of consumers use their phones to find recipes when grocery shopping.
A good mobile site design allows more shoppers to gravitate toward a particular CPG brand's website and increases the possibility that these shoppers will choose the brand's products when shopping for ingredients in their newfound recipe.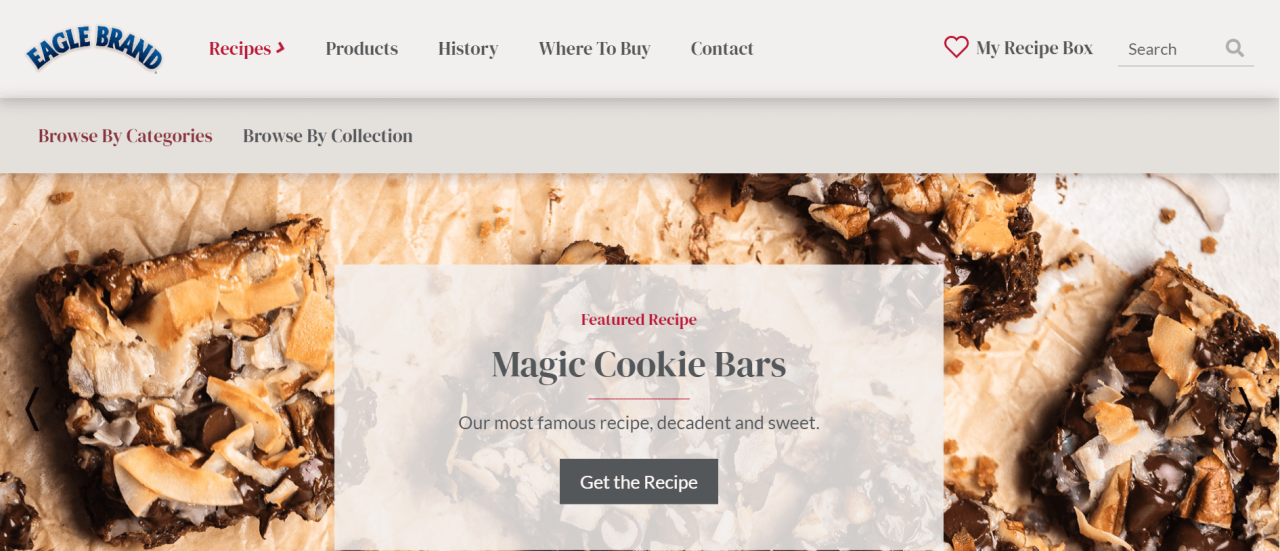 How to Create the Best CPG Brand Recipe Page Design
When creating the best recipe page design for your CPG brand, there are a few important things to keep in mind. Our experts in CPG web design have put together some of their best tips to help you create the best recipe page. These are the same tips we use when working with major brands across the US.
---
Create a Successful Recipe Page with a Clear Presentation
When someone is looking for a new recipe, they want to find just that, not a bunch of distractions. Make sure that your instructions are easy to find and clearly laid out in a logical order. In fact, if you are going to include some background or history, make sure there is an option to jump directly to the instructions. Otherwise, you risk losing users before they ever see the recipe.
Customers typically visit the CPG website specifically for the recipe, so if they have to scroll down too far or navigate through irrelevant information or awkward design structures, they will be more likely to simply leave and find a different one on another site. Your CPG brand recipe page design should be easy to find and easy to navigate for someone trying to quickly locate and read a recipe while scrolling on their phone in the supermarket.
---
SEO Can Increase the Visibility of Your Recipe Page and CPG Brand.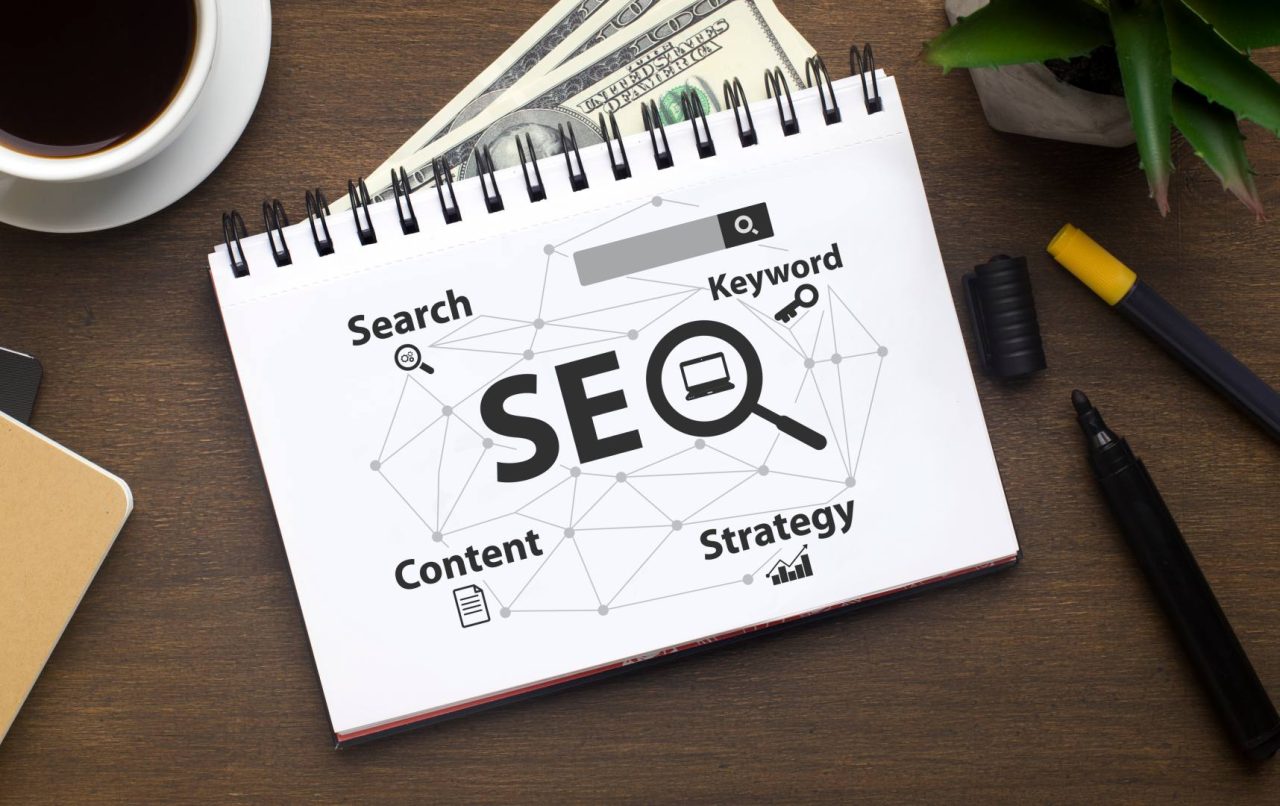 We're hoping that you are at least somewhat familiar with the concept of SEO, otherwise, have your people call us right away.
Search Engine Optimization, or SEO, is one of the most important factors in digital marketing. If your website doesn't have expert SEO, search users are unlikely to ever discover your CPG brand's website. We cover more about SEO in the following resources:
5 Reasons Why Blogging is a Profitable Strategy for Your Business
The 10 Most Common Misconceptions About SEO (and why SEO is worth it!)
8 Expert SEO Tips to Improve Your Website in 2022
Basically, an SEO strategy is focusing on a few keywords or phrases that are important to your business. By leveraging these phrases throughout technical aspects and content copy on your website, you signal to search engines that your website provides relevant content about the keyword or phrase.
Search engines are constantly looking to connect users with the most relevant information, which makes understanding, and implementing SEO so important for businesses. This is especially true for CPG businesses that are competing with several competitors. You want to make sure that search engines classify your website content as relevant to the keywords or phrases important to your brand.
When you correctly leverage SEO, you can help guarantee that your CPG brand's recipe page shows up on the first page of search results. This is exactly where your brand needs to be if it wants to capture as much organic traffic as possible. When your website doesn't appear until the fourth or fifth page of results, you aren't likely to see much, if any, traffic.
With a solid SEO strategy and implementation, your brand will appear in the first few results for relevant searches. This means more users will see your website in search results, which translates to more clicks and a higher conversion rate. Targeting the right keywords can increase your visibility.
For example, with our client Eagle Brand Foods, we targeted phrases like "sweetened condensed milk" and "desserts with condensed milk" to help them rank higher in the Google search results.
You can view more of the project under our Eagle Brand Foods Portfolio section.
---
Use Appealing Images in Your Recipe Page
Humans are very visual, and we retain more info from images than from written text. They also attract our attention better. When you are creating a recipe page design for a CPG brand, you should leverage this to your advantage.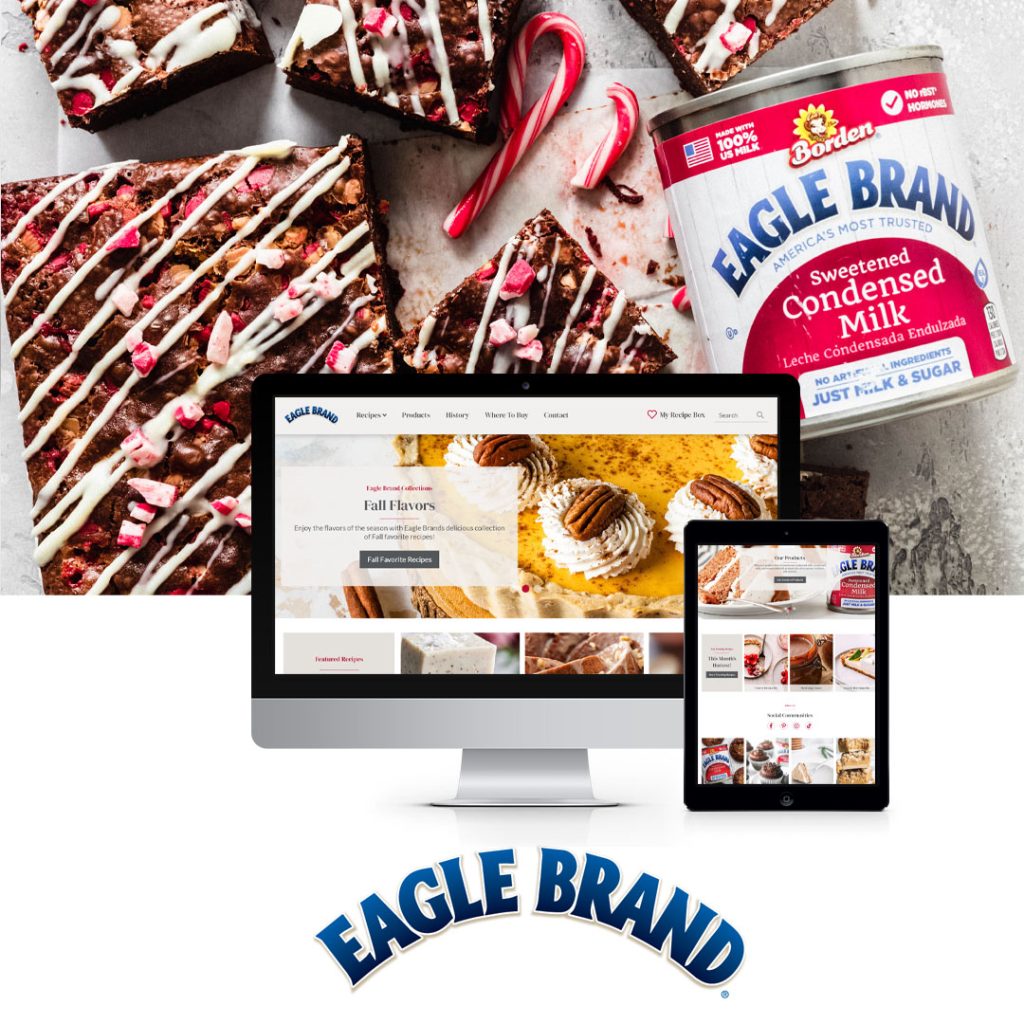 Recipe page design with pictures of the delicious final product are going to outperform the pages without images or poor-quality images. Include a few photos of the recipe's finished products, and your product ingredient, to encourage action from your audience.
While using images may seem simple, it is important that you use them correctly. If you use images incorrectly, you can actually hurt your page's SEO. What's the right way to use images? We cover the best practices for using images in our recent blog 8 Expert Tips For Image Content Use in 2022.
By following this guideline, you'll know the best way to use images on your CPG recipe page design.
---
Include Easy-to-Find Links on Your CPG Recipe Page
Your page's purpose is to bring traffic to your website, but the ultimate goal of creating a CPG brand recipe page is to drive purchases of your product used.
A recipe page design is your opportunity to direct users to pages where they will convert into customers. Your product should include a hyperlink when mentioned in the ingredients, and the instructions. This link should direct users to where they can order the product online or find it in-store locally. By making it easy to find, you can increase the number of conversions for your products.
Your recipe page design should also include links to other places on your website, like related products or other recipes that your audience may find useful. This not only will help your audience find more products or recipes that interest them but also help improve your page's SEO through backlinks.
By using links correctly on your website, you improve the technical aspects and user experience.
---
Allow Users to Filter Recipes and Store Favorites
Your recipe library is probably pretty extensive, which could make it difficult for your audience to find the ones that they are looking for. To make sure your recipe section is usable, you'll need to include some tools in your recipe page design to help your audience.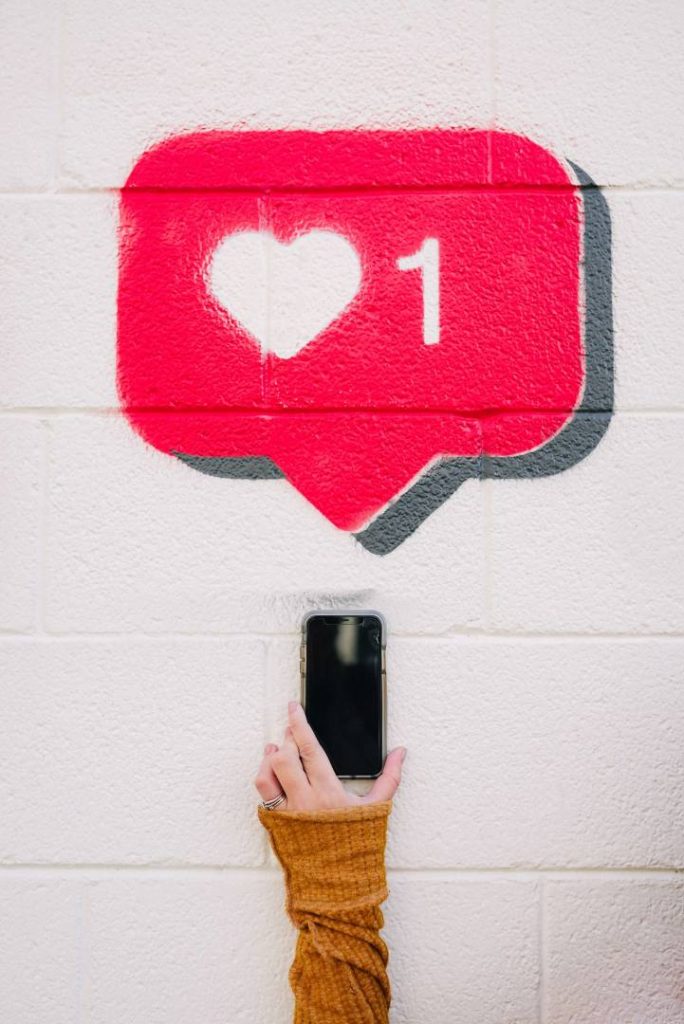 First, you should make sure that you can filter and sort the recipes. This will help users find recipe options in specific categories. For example, you could include a filter for 'recipes with 5 ingredients or less' or 'vegan meals.'
Your filter options are also likely to include ingredients, type of dish, and many more options. This will help users that come to your site without an exact recipe in mind, who are instead just looking for inspiration in a certain category.
The recipe section should also feature options to sort by factors like popularity, time to make, and other factors. This will help your users narrow their searches until they find a recipe that matches their criteria.
Once a user finds a recipe that they like, it's important that you offer a way to bookmark or favorite it so they can easily find it later. This will help users keep track of their favorites from your website. Your brand can take it one step further and allow your users to create lists where they save recipes too. This way they can organize the ones they save. Users could create a list for categories like future recipe ideas to try, or dinner ideas.
By providing these unique user features, your audience will continue using your brand's recipes.
---
Include Options to Share Recipes on Social Media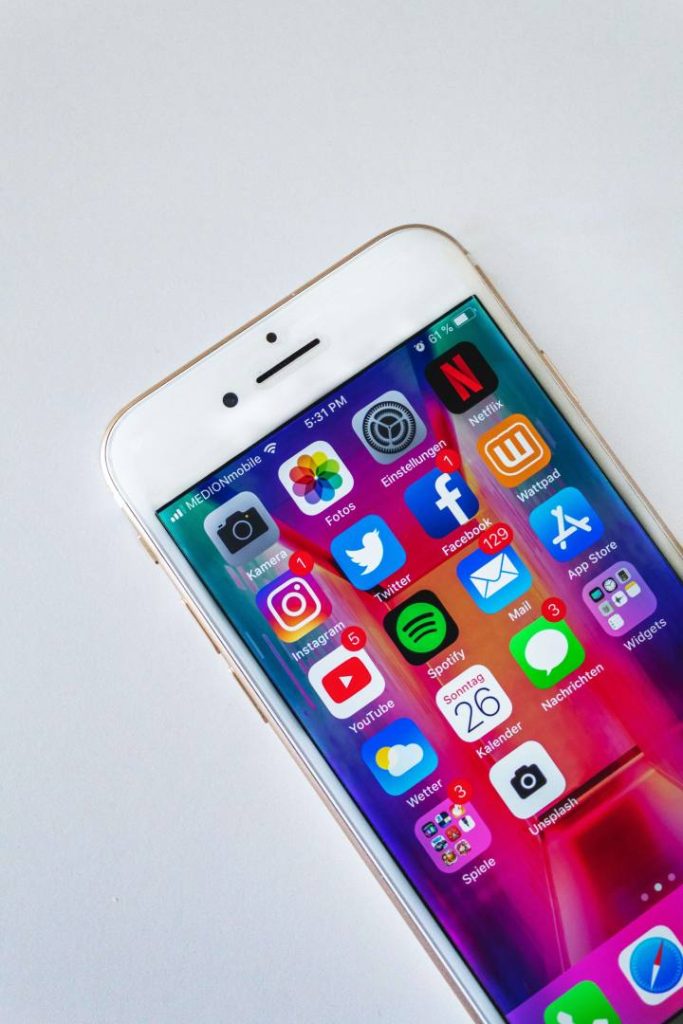 Social Media has become a critical part of any modern marketing strategy and is also important to consider in the design of your new recipe page design.
People use social media to connect and share content or information that is relevant to them. This presents a great opportunity for the sharing of original or popular recipes. Where recipes were once passed down through handwritten notes, they can now be shared with your family and friends with the click of a button.
To make sure that yours are shared across social media, you need to make sure that your recipe page design provides easy shareable options. Including a one-click share option on platforms like Facebook, Pinterest, Instagram, and Twitter are essential to getting yours out to the public. Complicated or unnecessary steps will discourage users from sharing your recipes.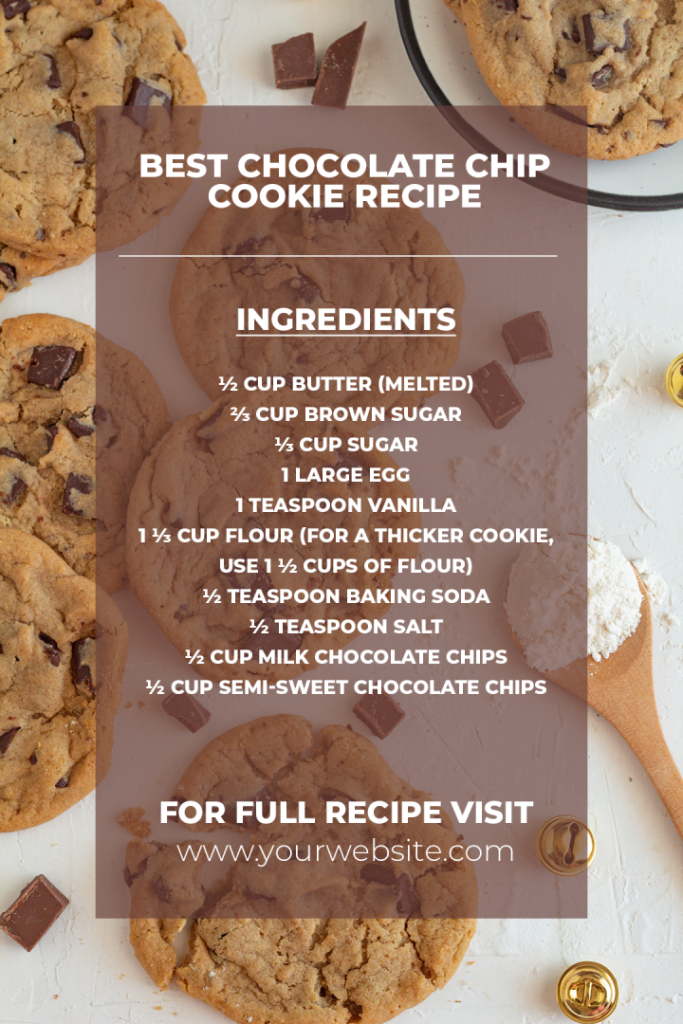 You also can't forget other sharing methods, like communication applications. Make sure that you can also share your recipes through email, text, and messaging platforms like Whatsapp. You should also include the option of copying the direct link to the page. Easy to share recipes will encourage more users to send them to their family, friends, or colleagues.
Don't forget to also include your recipe page as part of your social media marketing. Create original images (like the one featured) to share across your brand's social media platforms. Use a platform like linktree to feature direct links to the recipe instructions that you share, all with one simple link in your brand's bio. You should also include the link to the recipe in the actual post itself to encourage even more website visitors.
By sharing fan favorites, or allowing the sharing of them on social media, your brand can get free marketing from the users who share or interact with your post. But this won't work unless you've created a CPG recipe page that promotes social media sharing and functions as a landing page for users who discover it on social media.
---
Create an Easy Recipe Import Process for Your Recipe Page
While we've mostly focused on the factors of a great customer experience on your CPG recipe page, we can't forget one of the most important parts. Posting the actual recipes!
Recipes contain a lot of information and you probably have hundreds, if not thousands, of recipes that you will want to include in your library. How do you get all of these onto your website?
If you entered each one individually you could spend years working on boring data entries. No part of that sounds enjoyable, and thankfully, you can skip it! By hiring a team of web developers who have worked with CPG brands before, they will understand how to set up a custom recipe import program that will do all the heavy lifting for you. This functionality will save you time and headaches!
Custom web design will also eliminate other management issues your team might run into as well. With an experienced CPG web design agency, they will build your website in a way that is easy to manage for your team, so they'll be able to make adjustments as needed.
For example, your team will be able to change out imagery and website content to promote new products, seasonal highlights, and whatever else you need. With a custom CPG website, your team will be able to create any website changes needed, instantly without hassle. With a website that isn't built custom, changes or adjustments may have to be made by third parties, which can take days to implement.
To avoid the hassle of dealing with third parties, and a website that you can't edit on demand, make sure you opt for a custom-built CPG website that offers manageability for your team.
---
How to Drive Traffic to Recipe Pages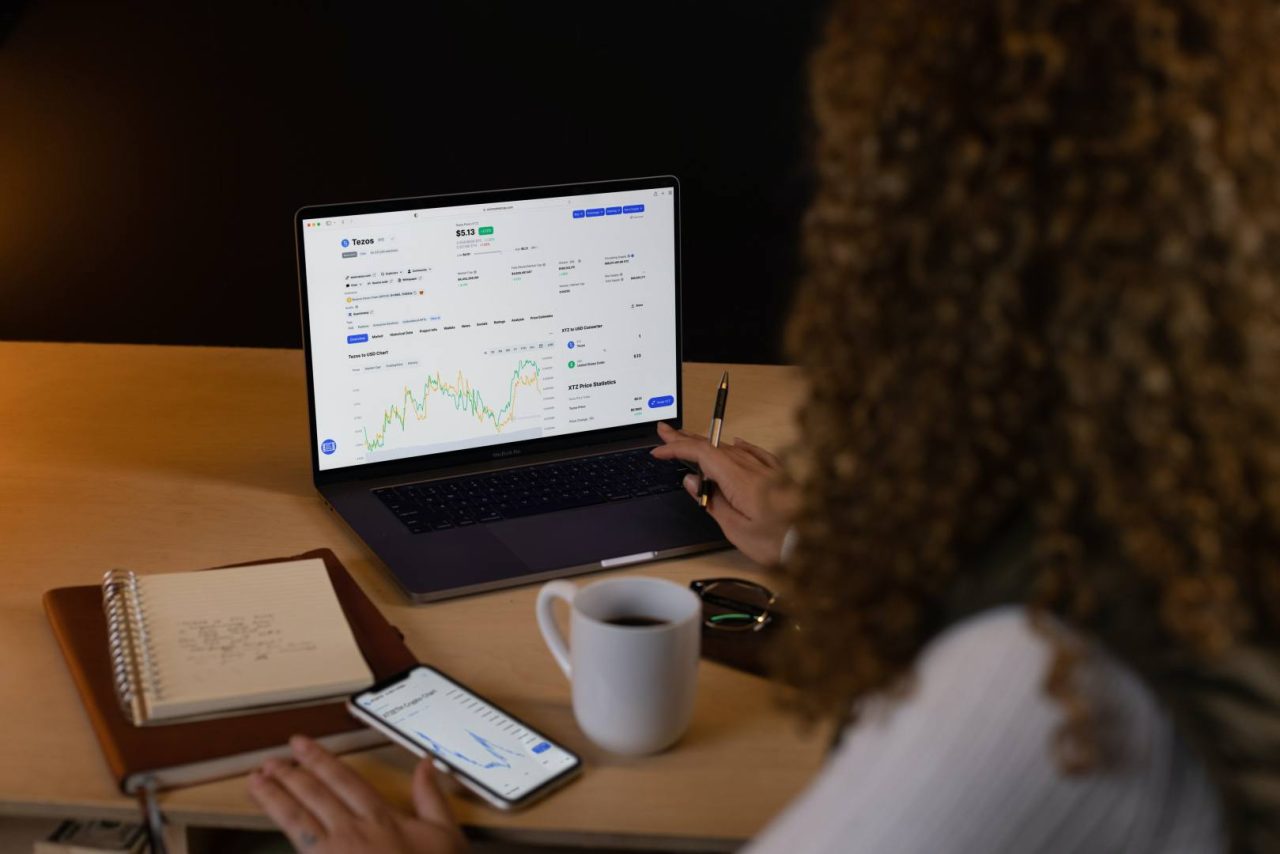 With these tips, you can build a recipe page design, or recipe section, that drives more traffic to your website and leverages higher conversion rates among your target audience.
With the prevalence of online shopping, a good recipe page design can help CPG brands promote their individual products in larger conceptual frameworks. This is especially true when it comes to younger shoppers.
For example, market research shows that millennials are more likely to shop for items they need right now, usually as part of recipes or meal kits. Creating convenient, engaging, and easy-to-read recipe pages can help CPG brands connect with new populations, sell more products, and retain loyal customers in the future.
Optimizing your website's recipe page design isn't optional, but instead, it is a necessity. If you don't have a recipe section, then you need to contact the experts in CPG web design right away. Or if your recipe section is broken, or doesn't seem modern then it may be time to consider an update.
Not sure how old is too old for your CPG website? This guide on a website's lifespan will help you better understand the lifecycle of your website. Once you've determined it's time for your redesign you need to find the best CPG web design services.
---