At Idea Marketing Group, we've worked with companies to execute their ads. From B2C eCommerce brands to B2B industrial building suppliers, we've seen success for our clients with Facebook Ads.
Facebook is a great platform to showcase your brand and promote it to a larger audience. The platform Ads Manager, owned by Facebook will help create, manage and analyze ads you run for your business. We have a strategic approach to successful advertising on social media platforms. Our digital marketing specialists will meet with you to discuss an objective for your ad, we'll help you create the best content, define a budget and schedule, and audience targeting.
How to Define a Facebook Ad Objective
There are many campaign objectives to choose from including; brand awareness, reach, traffic, engagement, video views, and more. At Idea, we've seen ads work best with the Brand Awareness, Reach, Traffic, and Video Views objectives.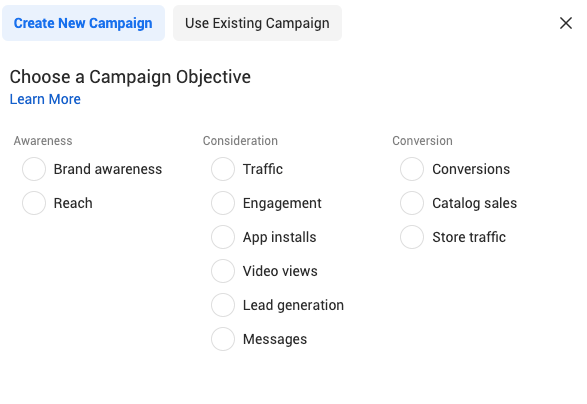 Brand Awareness: If your business' goal is to increase people's awareness of your business, brand, or service.
Reach: If your goal is to show your ad to as many people as possible in your target audience.
Traffic: We recommend using this objective if your goal is to send people from Facebook to a URL of your choosing, especially if it's a landing page on your website,
Video Views: Share videos of your business with people on Facebook most likely to watch it.
Conversions: Encourage people to take a specific action on your business' site, such as having them add items to a cart, download your app, register for your site, or make a purchase.
Your Ad Creative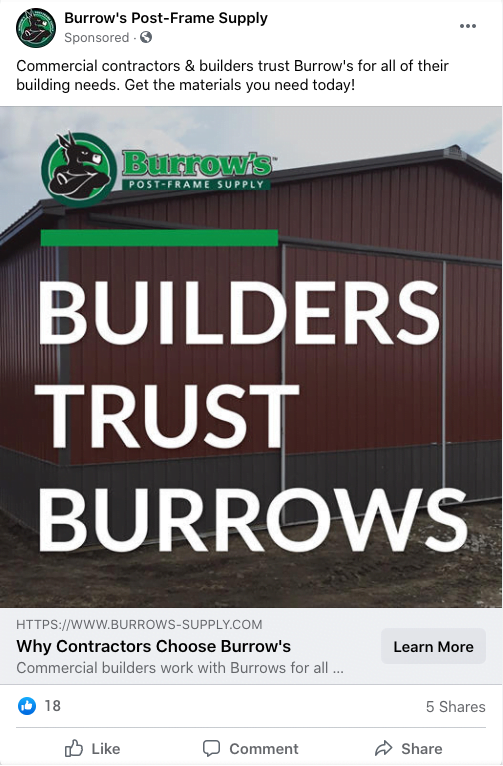 The first ad was a static image ad running for three months. The client didn't have ad content in mind, so with the help of our graphic designer, we used the below image as ad creative. When you partner with Idea Marketing, we create the content for you, whether it's a video or image if you don't have anything you want to use we can help!
For the image ad, we targeted 9 locations, all with a 40-mile radius since the towns are in a rural part of the United States. Our detailed targeting included users who had interests similar to the company, employers and job titles the company frequently worked with. The audience we used, can be seen above.
For the three months the ad was running, there were over 22,000 users reached, with over 81,000 impressions on the ad. The ad spent over $600 in the three-month period with 327 clicks on the ad in total.

In October, the client wanted to run the ad once again, targeting the same locations. Our digital advertising specialists wanted to test the audience with different ad creative. Our team put together a video using drone footage, the client had shared with us. This second version of the ad started in October and ended in December with a budget of $250.
We targeted the same 9 locations, all with a 40-mile radius, with the detailed targeting measures as before.
For the two months the ad was running, there were over 15,000 users, with over 42,000 impressions on the video. The amount spent over the two-month period was $250.00 with 167 clicks on the ad in total.

Setting an Advertising Budget For Social
The budget and schedule are one of the most important factors to focus on when it comes to running your ad. At Idea, we recommend using a lifetime budget for social media ads, as it's easier to track the budget, the ads will be running the whole time, and the platforms will break up your budget to run your ads effectively, and no extra money will be spent. We recommend putting at least $200 behind your ad as a lifetime budget in the beginning. It never hurts to put more money behind the campaign, but we recommend putting no less than $200.
There is no limit on the schedule, you can choose for your ads to run for a day, a week, two weeks, a month, etc. You can also create and prepare an ad to run for the future. We recommend running a campaign for at least three months.
Audience Targeting Within Facebook Advertising
When creating the ad set, you'll also be able to develop your audience. Facebook allows you to be selective with who you're targeting. You can target specific locations, ages, languages, and gender. There is even a detailed targeting tool, which is great for matching your ads to users with interest, employers, and fields they like. You can also exclude factors from your desired audience, so you're not spending money on an audience who will likely not engage with your ad.
We'll ask what some of the interests are of your customers. One of our clients, a wood frame supplier came to us wanting to promote their services to a set of specific locations. They were very thorough and clear, giving us a list of interests their customers have, along with the locations they wanted us to target. From the long list of interests they gave us, we were able to use some of them in the Ads Manager platform. Below, you can see a snapshot of their desired audience.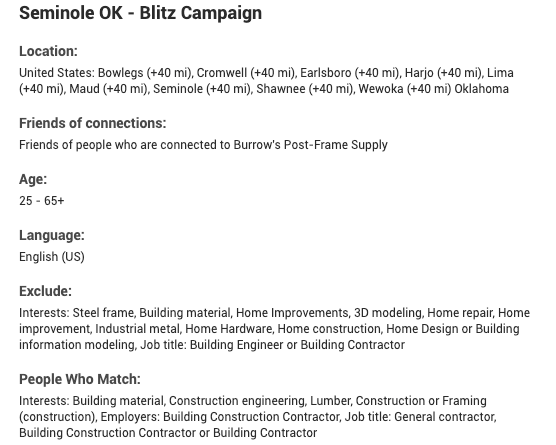 Since Facebook and Instagram are integrated, the content you create will appear on the Instagram app too, even if you don't have a page set up. Ads Manager lists out 12 places where your content will show up, these will be adjusted depending on the type of content you're sharing.
Facebook

Feeds
Instant Articles
In-Stream Videos
Video Feeds
Marketplace
Stories
Search Results

Instagram

Feed
Stories
Explore
Audience Network In-Stream Videos
Messenger Stories