Investing Your Digital Marketing Time & Money
Whenever and wherever your customers are ready to make a buying decision, your business has to be top of mind or easily found. In fact, that perfectly describes digital marketing. It's the strategic activities a company uses to build an audience online and drive new business.
However, digital marketing is less effective when you position your channels against each other or force yourself to choose between them. Instead, the key is to integrate–or combine complementary channels when possible. That ensures you're discoverable however your customers search for solutions.
An integrated digital marketing strategy attracts potential customers to your website from a variety of owned, earned and paid channels. Once there, they can find the information they need and ultimately take action.
Understanding Owned, Earned, and Paid Channels
In the pre-internet days, consumers had fewer places to search for products and services. Companies also had fewer opportunities to get in front of those potential customers.
Back then, new business was driven by storefront traffic, sales prospecting, word of mouth, and traditional advertising. Today, we call those avenues owned, earned, and paid channels. The goal of an integrated marketing strategy is to align those channels so they reach the largest qualified audience and then direct them back to your website.
Let's look at each channel individually.
---
Owned Channels: From your storefront to your website
Making a sale is widely considered easier if you can get a potential customer to visit your storefront or manufacturing facility. Today, your website is your online storefront. But, companies that view their website as an obligation, rather than an opportunity, fail to leverage its full potential. Inevitably, those websites become stagnant over time and a drain on company resources.
Why your website is your most important owned channel
Earlier, we acknowledged how important it is for businesses to be known and found when decision-makers are ready to buy. Here are four more reasons your website is your most important owned channel.
Control: Because you own your website, you have complete control over what you publish and when it's available for potential customers.
SEO: Since you can't predict when potential customers will search for your products or services, you have to publish content year-round. That content should address the topics that keep your audience awake at night. That way, as long as it's optimized correctly for search engines, it will help your company get discovered.
Expert Resource: These pages also position your company as an expert resource in your industry. Blogs, white papers, case studies, and testimonials show what you know about the problems your customers face. They also help people make better buying decisions in their own time, rather than pressuring them into a sale without first establishing trust.
Backlinks: Companies also publish blog articles, in part, because they establish backlinks when they're shared or referenced elsewhere. These backlinks also help your site rank higher in search engine results.
On the back end of your website, Google Analytics show what's working, what's not, and why. Using analytics, you can make better decisions regarding the content you publish in the future as well as how your sales staff can follow up with those leads.
More and more companies now realize the importance of building their online presence around a deep understanding of what matters to their target audience. They realize their website is the only platform where they can attract active searchers and build their case for why visitors should take action.
"Companies that view their website as an obligation, rather than an opportunity, fail to leverage its full potential."
Owned Digital Assets:
---
Earned Channels: From your sales staff leading the way to customers leading them
You can access an audience beyond the people visiting your storefront by leveraging earned channels. The most popular earned channels are social media, search engines, podcasts, radio, and traditional public relations (stories published about your company by third-party sources).
We categorize these channels as "earned" because they give you access to a third party's audience for free, based on how well your content matches their audience's interests.
When you post to social media, you're relying on each channel's algorithms to deliver your message to users you otherwise couldn't reach on your own. When people search for products, services, or answers to questions online, you're competing with every other resource claiming to offer the best solution. These social media channels and search engines are the gatekeepers. They decide whose content is shown first.
Earned media's reach is limited, however, by these ever-changing algorithms. So, you may struggle to predict exactly how your content will perform, who it will reach, or whether it will inspire action.
Frustrated by the amount of competition in Facebook feeds and Google results, many companies begin paying to advertise on these platforms. At that point, these earned channels become paid channels.
How earned channels support your website
For several years, companies leaned heavily into social media because they saw a free opportunity to reach new audiences. Unfortunately, many of those companies also let their websites and email marketing efforts die on the vine. Then, when Facebook's algorithm changes pushed organic reach down to near 1% in late 2017, they realized they could no longer reach the audience they spent years building.
In contrast, the companies that saw social media as a means to entice users back to their own website were far less affected by the drop in organic reach. And that is essentially how an integrated digital marketing strategy should work.
Think about your company's website as an island. On it, you're virtually unlimited in what you can publish, how often, or at what length. You can build your website island to reflect your brand, however you want.
However, if you want potential customers to visit your island, you have to maintain a presence where they spend their time and give them a reason to come. You can use your earned channels to invite them to your website island.
Earned Channels:
Social Media (Facebook, Instagram, Twitter, LinkedIn, Snapchat)
Search Engines (Google, Yahoo, Bing)
Public Relations (newspaper articles, radio/podcast guest appearances)
Word of Mouth (Reviews, social shares, referrals, backlinks)
---
Paid Channels: From Yellow Pages and Newspaper Ads to Facebook Pages and Google Ads
The disruptive force of social media has been felt across a number of industries, from telecommunications to news journalism. With the majority of the world's population actively using one social media platform or another, the business opportunities are undeniable.
Unfortunately, while platforms like Facebook, Instagram, Twitter, and LinkedIn are "free to play," they have become "pay to win." By that, we mean accounts are free to set up and manage, but these channels guard access to their users until you prove your content is valuable or you decide to advertise.
Paid advertising really just means paying for access to a platform's audience. In the same way you advertise on television, on the radio, or in print publications, you can advertise online now. In fact, Facebook and Google have been the driving factors in today's $88 billion dollar digital advertising market.
Paid Channels:
Digital Advertising (on social media, search engines or third party sites)
Traditional Advertising (print, television, radio, billboards, event sponsorship)
---
Building an integrated digital marketing strategy around your website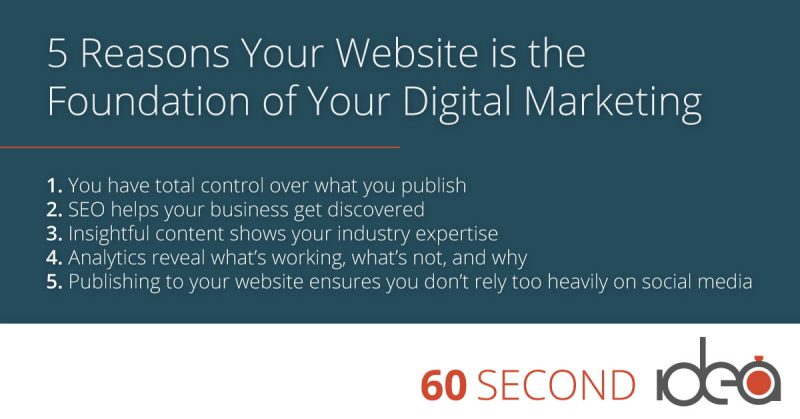 It can feel like you always have to publish something new to your website. Then, you have to actively engage social media followers across networks. Then, you have to publish email newsletters throughout the year.
Regardless of the size of your marketing department, effectively covering all your bases online can be overwhelming. Trying to do so without a digital marketing strategy can be nearly impossible.
Earning new business online shouldn't be a matter of choosing one channel over another. Much like investing in the stock market, it's wise to diversify your portfolio. As we mentioned earlier, integrating those channels makes sense because different people prefer different ways of consuming information and engaging with companies.
If your company's end goal is to get discovered by potential customers and show them your industry expertise in a way that's measurable and doesn't heavily rely on third-party platforms, build an integrated digital marketing strategy with your website as its foundation.